One Health research on biodiversity conservation and emerging infectious diseases presented at Ministry of Foreign Affairs in Stockholm
Published: 31 May 2019
On May 28, Associate Professor Åsa Fahlman and Dr Udeshika Sewwandi were invited speakers at the Ministry for Foreign Affairs in Stockholm, Sweden, on a seminar arranged by the Swedish Research Council.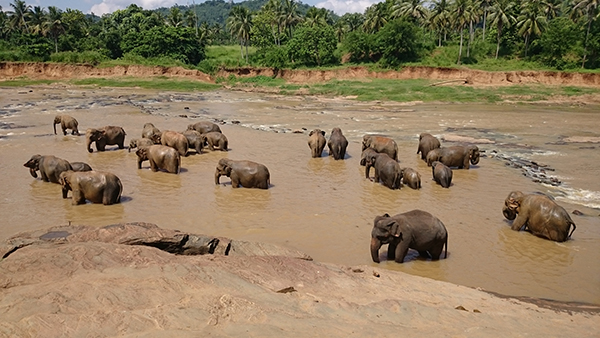 The Asian elephant (Elephas maximus) is an endangered
species that is threatened by habitat encroachment, human-animal conflicts, and poaching. Photoh: Udeshika Sewwandi.
With an emphasis on the Sustainable Development Goals (SDGs) of the UN 2030 Agenda, they presented ongoing One Health research on biodiversity conservation and emerging zoonoses in Asian wildlife and humans.
Åsa Fahlman is the project leader for this international research project, based at the Swedish Biodiversity Centre at SLU, and funded by the Swedish Research Council's development funding. Udeshika Sewwandi is a veterinarian based at the University of Kelaniya in Sri Lanka and a collaborator in the project, visiting Sweden for two weeks in May. During her visit in Sweden, meetings have been conducted with collaborators at CBM and other departments at SLU, and at Kolmården Zoo & Wildlife Park. A visit to the National Veterinary Institute's laboratory for TB-diagnostics was also conducted.
Wildlife is a key sustainable resource important for economic growth in many countries. To conserve and manage wildlife, knowledge on infectious diseases is imperative. Tuberculosis (Mycobacterium tuberculosis) is a serious health threat as one of the most deadly infectious diseases in humans, and an emerging disease in wildlife. The bacteria can be transmitted from humans to elephants, and vice versa, and it is has been discovered in captive elephants in several countries.
Research on tuberculosis is important for conservation of wild elephant populations and for public health, in line with SDG15 to halt biodiversity loss (SDG15), and to ensure healthy lives and end the epidemic of tuberculosis (SDG3). In this international project, research studies on tuberculosis and other infectious diseases are conducted jointly by researchers from CBM and other departments at SLU, Karolinska Institutet, Kolmården Zoo and Wildlife Park, and the Swedish Defense Agency, in collaboration with researchers and veterinarians in Sri Lanka at the University of Kelaniya and the Department of Wildlife Conservation.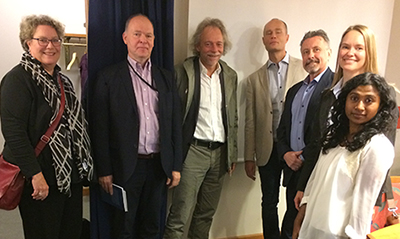 ---
Contact
Åsa Fahlman, Researcher


Department of Urban and Rural Development, Stad och land




Page editor: cbm-webmaster@slu.se