Professor at SLU: We have to reduce the risks of contaminants of emerging concern in our waters
Published: 24 June 2019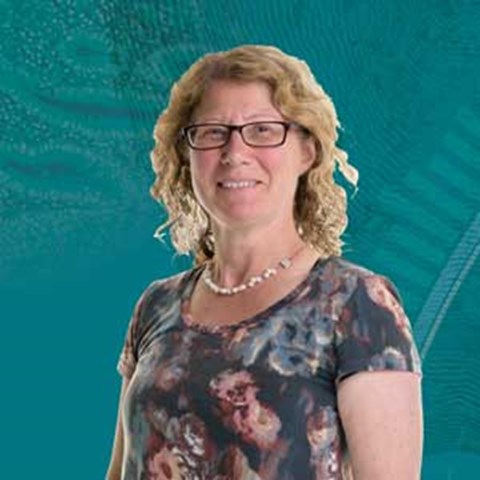 The society must implement more advanced technologies to control and purify the drinking water. These are a few of the recommendations given in a policy brief by an international group of experts to European decision makers, regulatory authorities and the water services industry. Professor Karin Wiberg at SLU is one of the experts.
There are tens of thousands of potentially harmful substances circulating in our environment. Designated as Contaminants of Emerging Concern (CECs) or Emerging Pollutants these substances are not regulated, and therefore not included in routine monitoring programmes, nor are they purified in water treatment plants. Examples of such substances are flame retardants, drug residues, residues from hygiene and skin care products and microplastics. Our knowledge of their fate and behaviour in the environment as well as their effects and potential risks on environmental and human health is still limited.
"We need to improve the knowledge of emerging pollutants in our society. What little we know about these substances and the risks they pose are just the tip of the iceberg", says Karin Wiberg, Professor in Organic Environmental Chemistry at SLU.
Karin Wiberg is one of the experts in a knowledge hub within Water JPI, a collaborative initiative by the European Commission, with a mission to support decision makers and the water services industry. In a policy brief the experts emphasise that the precautionary principle must guide the modernisation of applied methodology and technology to protect the health and water resources of future generations.
"Our society must strengthen and improve the way water safety issues are being handled. That is why the management of risks and regulations needs to be changed to embrace the precautionary principle. In practice this for instance comes down to the need for implementing new methods for evaluation of hazards in our water and wastewater treatment plants. We probably also need to monitor the chemical hazards in our drinking waters more continuously", says Karin Wiberg.
The increasing pressures and future challenges affecting the water resources also highlight the need for improved scientific support to professionals. In Sweden, SLU is one of the organizations working together to enable a national centre for chemical hazards in drinking water.
Facts:
Contaminants of Emerging Concern (CECs)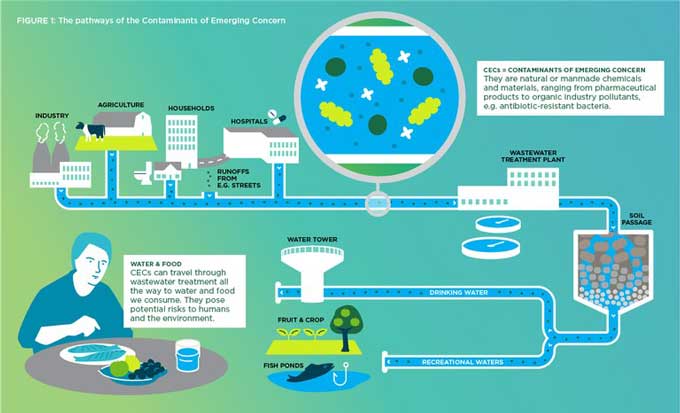 Pathways of Contaminants of Emerging Concern in society. Image from policy brief at www.waterjpi.eu.
---
Contact
---
Links:
Policy brief
Resources at SLU
Context