Core principles for successfully implementing and upscaling Nature-based Solutions
Published: 24 June 2019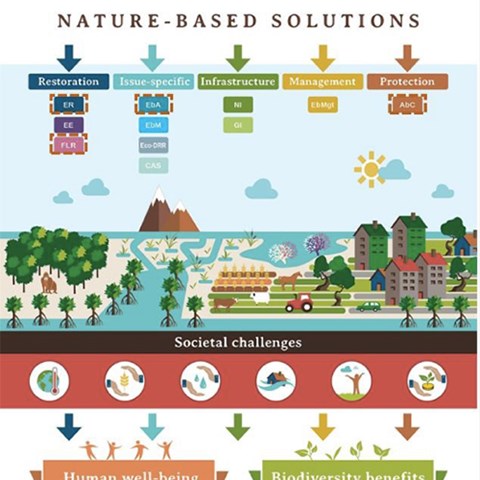 IUCN's Nature-based Solutions (NbS) framework is proposed as an approach to biodiversity conservation that links conservation with human wellbeing for sustainable development. NbS is an umbrella concept intended to provide a common set of principles and standards for a range of ecosystem management practices including restoration, climate change adaptation and disaster risk reduction.
Article: Core principles for successfully implementing and upscaling Nature-based Solutions
Authors: Emmanuelle Cohen-Shacham, Angela Andrade, James Dalton, Nigel Dudley, Mike Jones, Chetan Kumar, Stewart Maginnis, SimoneMaynard, Cara R.Nelson, Fabrice G.Renaud, Rebecca Welling, Gretchen Walters
Link to the article: https://www.sciencedirect.com/science/article/pii/S1462901118306671
About Nature Based Solutions at IUCN web page: https://www.iucn.org/commissions/commission-ecosystem-management/our-work/nature-based-solutions
IUCN report on Nature Based Solutions: https://portals.iucn.org/library/node/46191
Background to the study
This paper analyses proposed NbS principles with those established for other ecosystem management approaches to determine their alignment and discover gaps to be addressed for the development of rigorous, evidence-based standards.
Methods and results
This was a transdisciplinary study that analysed the principles of existing ecosystem management approaches and compared them with the principles proposed for NbS. The analysis showed that NbS contained three new principles: landscape scale application; integration of management approaches; and integration of sectoral policy. Conversely, NbS principles did not pay sufficient attention to adaptive management, governance, uncertainty, participation and temporal scale.
Practical relevance
The paper is a contribution to the development of the NbS framework that is intended to be a primary tool for biodiversity conservation. The framework recognises biodiversity and ecosystems as the foundation of sustainable development and human wellbeing.
The study contributes to the NbS framework and standard that is specifically designed to connect biodiversity conservation with sustainable development for human wellbeing and address societal challenges such as climate change, food and water security.
Ecosystem managers, biodiversity conservationists and policy makers in government, non-government organisations and the private sector concerned with conservation and sustainable development.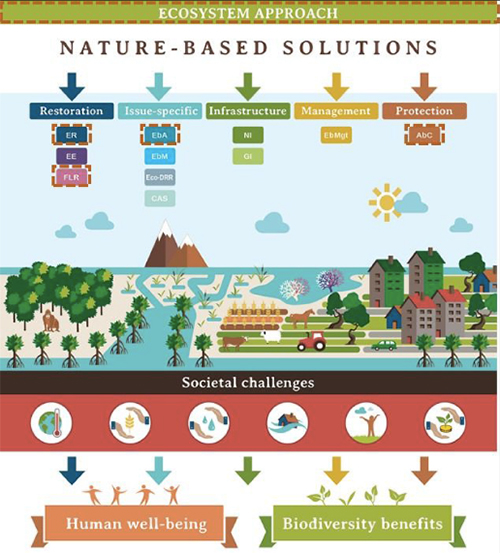 Abstract
Despite substantial increases in the scope and magnitude of biodiversity conservation and ecological restoration, there remains ongoing degradation of natural resources that adversely affects both biodiversity and human well-being. Nature-based Solutions (NbS) can be an effective framework for reversing this trend, by increasing the alignment between conservation and sustainable development objectives. However, unless there is clarity on its evolution, definition and principles, and relationship with related approaches, it will not be possible to develop evidence-based standards and guidelines, or to implement, assess, improve and upscale NbS interventions globally. In order to address this gap, we present the definition and principles underpinning the NbS framework, recently adopted by the International Union for Conservation of Nature, and compare it to (1) the Ecosystem Approach that was the foundation for developing the NbS definitional framework, and (2) four specific ecosystem-based approaches (Forest Landscape Restoration, Ecosystem-based Adaptation, Ecological Restoration and Protected Areas) that can be considered as falling under the NbS framework. Although we found substantial alignment between NbS principles and the principles of the other frameworks, three of the eight NbS principles stand out from other approaches: NbS can be implemented alone or in an integrated manner with other solutions; NbS should be applied at a landscape scale; and, NbS are integral to the overall design of policies, measures and actions, to address societal challenges. Reversely, concepts such as adaptive management/governance, effectiveness, uncertainty, multi-stakeholder participation, and temporal scale are present in other frameworks but not captured at all or detailed enough in the NbS principles.
This critical analysis of the strengths and weaknesses of the NbS principles can inform the review and revision of principles supporting specific types of NbS (such as the approaches reviewed here), as well as serve as the foundation for the development of standards for the successful implementation of NbS.
---
Contact

Page editor: annika.borg@slu.se