SLU news
Symposium opens up to collaboration between SLU and Sri Lankan Universities
Published: 18 June 2019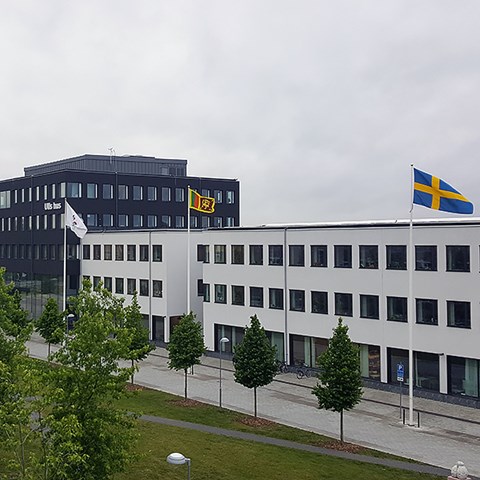 On June 13th, a Sri Lankan symposium took place at SLU focusing on displaying existing collaborations with SLU and Sri Lankan Universities. The symposium was visited by the Sri Lankan ambassador, H.E. Mr. Sudantha Ganegamaarachchi.
During the visit, Sri Lankan ambassador and SLU' Pro Vice-Chancellor, Ylva Hillbur underlined the importance of existing collaborations and advantages to establish new contacts between SLU and Sri Lankan Universities. This is the first time that SLU welcomes an ambassador from Sri Lanka and we at SLU are excited to open up bilateral collaborations with Sri Lankan Universities both in research and education areas.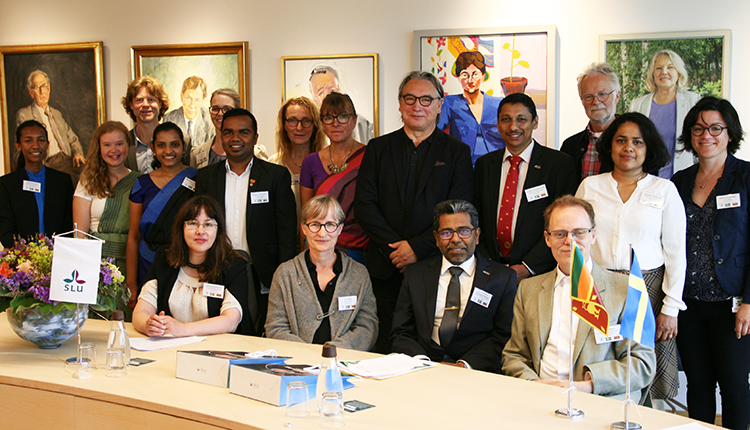 Photo: Rolf Reutlert, SLU
'Talented international students are highly important in maintaining high study quality at SLU, and the knowledge students get at SLU might contribute positively to sustainable development in Sri Lanka and elsewhere. We are keen on strengthening and further exploring opportunities for collaboration with partner universities in Sri Lanka', says Pro Vice-Chancellor Ylva Hillbur, International Relations at SLU.
'Sri Lanka is keen to build a strong collaboration with Swedish University of Agricultural Sciences. Such a collaboration will enable Sri Lankan Academia and Researchers to acquire modern technology and knowledge in the field of Agriculture for the economic development of the Country', says Sri Lankan ambassador, Mr. Sudantha Ganegamaarachchi.
This event was conceptualized and organized by Hasitha Priyashantha, a PhD student at the Department of Molecular Sciences, who was born and studied at Sri Lanka.
'I am particularly excited as this visit came to a success with lot of potential benefits towards fellow Sri Lankan future incoming students to SLU. I want to build bridges between Sri Lankan academic institutes and SLU, as well as strengthen and broaden the exiting collaborations. Moreover, I do hope that in the future, more researchers at SLU will establish new collaborations with Sri Lanka and I believe that this Symposium opened up for such possibilities. Besides, I am expecting that these research links will facilitate for future outgoing exchange students from SLU to Sri Lanka as well. At present as a PhD student and back then, as a master student at SLU, I am impressed with the quality and novelty of research and the education system at SLU. Thus, I want future Sri Lankan students to harness these benefits too', says Hasitha.
'The Swedish University of Agricultural Sciences is hoping to intensify our educational cooperation with Sri Lanka. Presently, we have several initiatives regarding student and teacher mobility, but we also see a great potential in recruiting more Sri Lankan students to our international Master's programmes, as many of our subjects are of high relevance also to Sri Lankan society', says Geir Löe, Senior International Officer, at the Division of Educational Affairs at SLU.
'Finding new partners for collaboration is highly important to the success of research and education. This symposium opened up channels for an alliance of goals and ideas between Sweden and Sri Lanka. This can be further used in joined research projects on e.g. food safety or new food product development, or any other areas', says external collaboration specialist in food quality Galia Zamaratskaia.
'We have received talented students from University of Peradeniya and I am impressed to see their progress during and after the studies at SLU. It was a great pleasure to work with Sri Lankan students', says Monika Johansson, Associate professor at the Department of Molecular Sciences.
After the symposium, Pro Vice-Chancellor Ylva Hillbur, International Relations at SLU lead the discussion with Sri Lankan delegates regarding future perspectives of collaborations.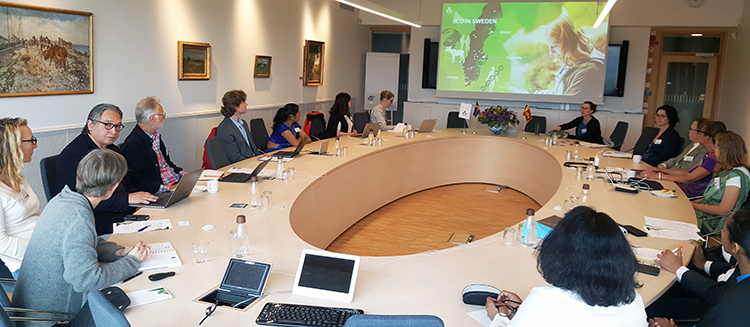 Photo: Hasitha Priyashantha, SLU
Facts:
---
Contact
Hasitha Priyashantha, doctoral student
Chairperson of SLUSS PhD student council 2018
www.slu.se/en/cv/hasitha-priyashantha
E-mail: hasi.tvp@slu.se
Postal address: Department of Molecular Sciences
Box 7015, SE-
750 07 Uppsala
Visting address: BioCentrum, Almas allé 5
Mobile: +46 (0)72 835 2158
---
Press releases