Effects of seascape configuration on herbivory
Published: 14 December 2020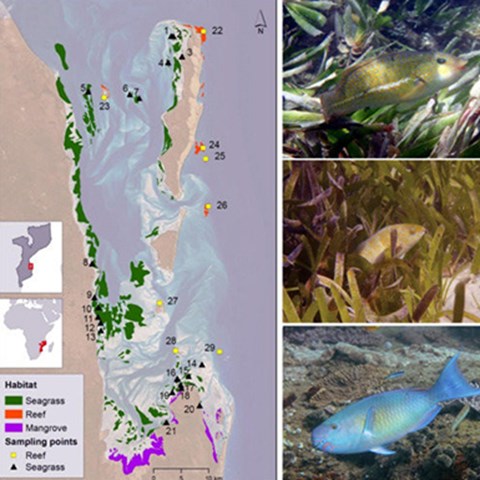 Seascape configuration, i.e. how habitat patches are arranged within the tropical seascape, was found to influence patterns of herbivory in two different geographical locations; Mozambique and Moorea in French Polynesia. Seascape configuration of coral patches was associated with high abundance of adult herbivores in dense areas in Moorea, while the abundance and bite rate of juveniles was associated with the presence of macroalgae and not configuration of habitat, says Charlotte Berkström, researcher at the Department of Aquatic Resources (SLU Aqua).
In Mozambique, seascape configuration of mangrove, seagrass and coral reef patches influenced herbivory patterns in a large archipelago.
Herbivory is an important ecological process linked to ecosystem resilience, but it is not clear how herbivory relates to seascape configuration. In Mozambique, we showed that ecological functions performed by herbivorous fish are not equally distributed in the seascape and are influenced by fish life history and the spatial configuration of habitats in the seascape.
Likewise, we show that this is also true in a tropical lagoon in Moorea, French Polynesia where the density of coral patches and the presence or absence of macroalgae had contrasting effects on juvenile and adult herbivores. This has implications for the resilience of the system, in terms of spatial heterogeneity of herbivory and bioerosion and should be considered in marine spatial planning and fisheries management.
The articles (open acess) Seascape Configuration and Fine-Scale Habitat Complexity Shape Parrotfish Distribution and Function across a Coral Reef Lagoon ans Seascape Configuration Leads to Spatially Uneven Delivery of Parrotfish Herbivory across a Western Indian Ocean Seascape are published in a special issue on fish herbivory in the journal Diversity.
---
Contact
Charlotte Berkström, Researcher
Department of Aquatic Resources, Institute of Coastal Research, SLU
charlotte.berkstrom@slu.se, +46 10 478 41 65