Connectivity thresholds for seascape management in tropical settings
Published: 18 June 2020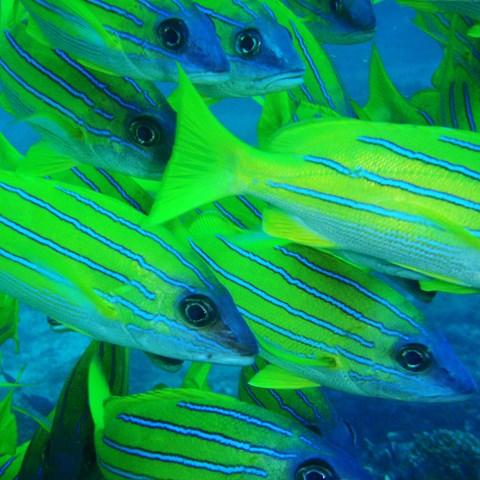 An international research team found that the spatial arrangement and distances between habitat patches highly influenced the abundance and distribution of coral reef fish species using mangroves and seagrass habitats as nursery areas. "The abundance and biomass of these species abruptly declined on coral reefs located more than 8km from seagrass beds in the Bazaruto archipelago in Mozambique, says Charlotte Berkström", researcher at the Department of Aquatic Resources (SLU Aqua).
"Additionally, these species were absent on reefs further than 80km from mangroves, indicating threshold values useful in the management of aquatic resources and marine spatial planning."
Many coral reef fishes use habitats other than coral reefs as nursery areas. These areas are believed to provide food and shelter from large predators found on coral reefs. Migrations during different life stages and between different habitats is referred to as ontogenetic migrations and connect multiple habitats within tropical seascapes.
According to Charlotte Berkström, management has often failed to include this aspect of connectivity in marine spatial planning, focusing protection and efforts on coral reefs only.
"However, a more holistic approach is needed for efficient management of marine resources and hence adjacent habitats like seagrasses and mangroves should be included in management action" says Charlotte Berkström.
Threshold values will be highly useful in such an approach. Authors also found that large stretches of sand and deep water acted as barriers for fish migrations and highlight that this may vary between seascapes depending on the size and extent of habitats included.
Read the fill article in Ecography (open access): Thresholds in seascape connectivity: the spatial arrangement of nursery habitats structure fish communities on nearby reefs
---
Contact
Charlotte Berkström, Researcher
Department of Aquatic Resources, Institute of Coastal Research, SLU
charlotte.berkstrom@slu.se, +46 10 478 41 65

Page editor: sofia.bureborn@slu.se