SLU appoints eight new honorary doctors 2020
Published: 15 June 2020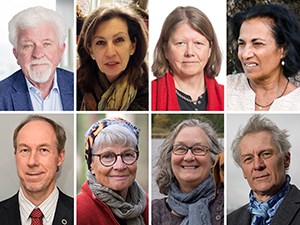 This year, the Swedish University of Agricultural Sciences has appointed eight new honorary doctors. Five of them are Swedes, one of whom works in Canada: Farmer Gunnar Rundgren, Järlåsa; Professor Mikael Rönnqvist, Canada; Forester Monika Stridsman, Stockholm; Programme Director Madeleine Fogde, Vejbystrand and Director Rune Andersson, Mellby gård. They are joined by Dr Brenda Bonnett, Canada; dr Shakuntla Thilsted, Malaysia and Professor Sarah Gurr, United Kingdom.
Owing to the current pandemic, this year's honorary doctors will have their honorary degrees conferred upon them in October 2021, in Uppsala. They will also give their honorary doctor's lectures in connection with the 2021 doctoral award ceremony.
Below are short presentations of the eight honorary doctors appointed by the SLU's four faculties for 2020.
Faculty of Landscape Architecture, Horticulture and Crop Production Science
Director Rune Andersson, Mellby Gård, is one of Sweden's most successful business executives and entrepreneurs. He graduated a civil engineer from Chalmers in 1968 and has had a long career in business, including as CEO of Trelleborg AB. He bought the Mellby farm in 1986. Today, the company Mellby Gård comprises some 20 businesses in various sectors. With his great interest in business and entrepreneurship in agriculture, he has been of great importance to the LTV Faculty. His support and interest have contributed to exceptional efforts in science and collaboration.
Professor Sarah Gurr, University of Exeter, received her doctorate in plant pathology from Imperial College, London, in 1983. She has previously held a professorship at Oxford. She has been active in the field of plant protection for over four decades and has published over 150 scientific articles in journals such as Nature and Science. Professor Gurr has made outstanding contributions in scientific fields like plant protection and food safety. She has been involved in a longstanding collaboration with researchers at SLU's Faculty of Landscape Architecture, Horticulture and Crop Production Science as an external advisor and, not least, as a mentor for young female researchers.
Faculty of Natural Resources and Agricultural Science
Programme Director Madeleine Fogde trained as a teacher and today is the programme director of the Swedish International Agricultural Network Initiative (Siani), coordinated by the Stockholm Environment Institute (SEI). Siani has a broad member base and is a highly inclusive organisation offering an attractive network for those working in global agricultural research. She has worked extensively with low-income countries in Africa, including on a project for water supply and ecological sanitation in Mozambique. She has a large, global network in agriculture, sanitation and women's organisations.
Dr Shakuntala Thilsted, Penang, Malaysia, heads the research programme Value Chains and Nutrition at international research organisation WorldFish. She received her doctorate in nutritional physiology in Copenhagen, and during her career has combined academic work with work as a consultant and adviser on nutritional issues for organisations such as the FAO, Unicef, Ifad and the World Bank. Much of her research has focused on the potential of small species of fish to help prevent vitamin and mineral deficiencies in low- and middle-income countries. She has also demonstrated considerable commitment as a mentor for younger researchers.
Faculty of Forest Sciences
Professor Mikael Rönnqvist is active in the field of operational analysis and is currently at the Université Laval in Canada. By developing and applying methods in operational analysis to the forest sector's value chain, he has made significant contributions to the forest industry and to forest research. Rönnqvist is one of the originators of the concept behind 'Krönt vägval', a tool used to calculate the most efficient route for forest transports, used today by around 100 forestry companies. During the years, SLU has enjoyed several successful collaboration projects with Mikael Rönnqvist, including on the decision support system Heureka.
Forester Monika Stridsman has had a long career in the Swedish forest industry. Previous positions include MD of the Swedish Forestry Association, secretary-general of the WWF, manager at the Swedish Environmental Protection Agency and director-general of the Swedish Forest Agency. She was one of the first female officials in the Swedish forestry sector and throughout her career has broken new ground. She has been a member of the SLU Board and has also been engaged in the Swedish Species Information Centre. Above all, she has been a major inspiration for other female foresters.
Faculty of Veterinary Medicine and Animal Science
Dr Brenda Bonnett, Canada, holds doctorates in both veterinary medicine and epidemiology. Today, she is the CEO of International Partnership for Dogs. As an independent epidemiologist, Dr Bonnett has been part of several research projects in Europe and North America. Her research has involved numerous species and disciplines, with a focus on companion animals, epidemiology research, breed-specific risks of disease and death in dogs, cats, and horses, human-animal interactions and communication between vets and animal owners. Between 1998 and 1999, she was a guest professor at SLU.
Farmer Gunnar Rundgren manages Sunnansjö farm in Järlåsa, but also runs Grolink, a consultancy business, and is an activist, author and lecturer. He was one of the founders of Krav, the Swedish organic certification organisation, in 1985. He is also an important voice in the debate on agricultural development, be it cultivation techniques, market systems or organisation. Gunnar Rundgren also has a strong international commitment, in particular in developing countries. He often challenges opinions that are well established both within and outside the academic community, contributing knowledge and challenging established points of view.
Press images
(May be published without charge in articles about this press release, please acknowledge the photographer).
Rune Andersson. Photo: Mellby Gård
Sarah Gurr. Photo: Gero Steinberg
Madeleine Fogde. Photo: Stockholm Environment Institute (SEI)
Shakuntala Thilsted. Photo: Finn Thilsted
Mikael Rönnqvist. Photo: Mikael Rönnqvist
Monika Stridsman. Photo: Marie Sparreus/Föreningen Skogen
Brenda Bonnett. Photo: Måns Engelbrektsson
GunnarRundgren. Photo: Jan-Åke Eriksson/Ordfront förlag
Contact persom
Pia Schultz, Assistant Academy Steward at the Vice-Chancellor's Office; Vice-Chancellor's Office, secretariat
Telephone: +46 (0)18-67 20 65. E-mail: pia.schultz@slu.se
Facts:
---
Contact