Medals for Distinguished Service to Gren, Magnusson and Lundqvist
Published: 13 September 2021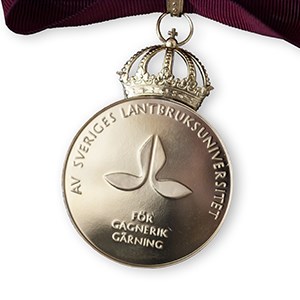 SLU annually awards three Medals for Distinguished Service. This year, the Great Medal for Distinguished Service is awarded to Professor Ing-Marie Gren. The smaller gold medal is awarded to Professor Ulf Magnusson, while the silver medal is awarded to Docent Johan Lundqvist.
The medals were instituted through a decision by the SLU Board in April 2009 and were awarded for the first time in 2010. The SLU Board also decides who will receive the medals.
The Great Medal for Distinguished Service is awarded for research efforts deemed "remarkable from an international perspective". The smaller Gold Medal for Distinguished Service rewards "exemplary, exceptional efforts of lasting value". The Silver Medal for Distinguished Service is awarded to a young, promising talent at SLU who is encouraged to continue in the same exemplary manner in the future, "preferably within the innovation and collaboration field".

Ing-Marie Gren (photo: Viktor Wrange); Ulf Magnusson (photo: Jenny Svennås-Gillner); Johan Lundqvist (photo: Lisbet Spörndly).
Professor Ing-Marie Gren is awarded SLU's Great Medal for Distinguished Service for extensive and internationally acknowledged work in the field of economics, with a focus on environmental economics.
Ing-Mari Gren has developed creative, innovative and high-quality research on the choice of measures and policies to reduce eutrophication of the Baltic Sea. As part of this work, she has built up an extensive network of scientists within the region and has been highly successful in seeking external funding, e.g. from the EU, Formas, the Swedish Environmental Protection Agency and the Swedish Energy Agency. She has published more than 100 articles in reputable international journals and has been the main supervisor for 15 doctoral students. Ing-Marie has advanced the teaching of economics and has been a driving force behind the degree programme Environmental and Natural Resource Economics.
Professor Ulf Magnusson is awarded the Gold Medal for Distinguished Service for his purposeful efforts to further SLU's broad expertise in animal husbandry and One Health issues with a long-term perspective.
Ulf Magnusson has, with much commitment and great success, contributed to the university's international research collaboration in agriculture and food security, with a special focus on issues related to animal health and animal products. By raising national interest in these issues, he made it possible for SLU to secure significant resources from the Swedish Ministry of Foreign Affairs for research on food security. Ulf Magnusson was chairperson of the reference group appointed by Sida when the Ministry of Foreign Affairs allocated more than SEK 100 million to Sida for use in FAO's efforts to combat the global outbreak of avian influenza. He has also developed collaborations with universities in the Baltic states, East Africa and Southeast Asia. Within SLU, Ulf Magnusson has made a strong contribution to the development of what is today SLU Global and to the development of SLU's strategy for global development, which has since been a model to other Swedish universities.
Docent Johan Lundqvist is awarded the Silver Medal for Distinguished Service for successful research focused on the development of new and innovative methods for detecting chemical risks in the environment, particularly toxic substances in drinking water.
Johan Lundqvist leads the research group Molecular toxicology and has successfully collaborated with the surrounding society via e.g. SLU Holding and Uppsala Innovation Center. He has also participated in Almedalen with a seminar on safe drinking water. Johan Lundqvist is co-founder of a company set up to offer new analysis methods to the water sector. He has also performed environmental monitoring for the Swedish Environmental Protection Agency and several county administrative boards.
---
Contact
Sune Lindh, Academy Secretary
Vice-Chancellor's Office, SLU
sune.lindh@slu.se, +46 18-67 10 12, +46 070-524 99 48