Kick-off for the new Interdisciplinary Adacemy
Published: 01 November 2022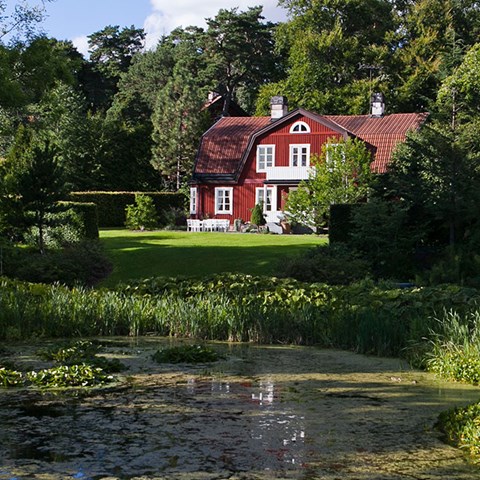 In November, SLU's new Interdisciplinary Academy (IDA) makes its official start. Two projects and eleven researchers are admitted to the academy. Together, they represent nine departments, all four SLU faculties and a wide range of different science branches.
The call for the Interdisciplinary Academy (IDA), announced in May 2022, welcomed groups of 5-10 researchers employed at SLU to submit proposals for themes consisting of questions about a scientific problem area of a complex nature that need a cross-disciplinary approach to be managed and perhaps solved. Out of five applications, two were seleced. The two applications admitted to IDA 2022-2023 are:
Futures for Agriculture - An interdisciplinary exploration of the science and values underpinning academic discourses on human-nature interactions:
Klara Fischer, Department of Urban and Rural Development
Riccardo Bommarco, Department of Ecology
Hans Liljenström, Department of Energy and Technology
Giulia Vico, Department of Crop Production Ecology
Helena Röcklinsberg, Department of Animal Environment and Health
Multifunctional landscape transformations – turning around the trade-offs
Hanna Fors, Department of Landscape Architecture, Planning and Management
Anna Berlin, Department of Forest Mycology and Plant Pathology
Uliana Gottlieb, Department of Economics
James Kurén Weldon, Department of Aquatic Sciences and Assessment
Mari Kågström, Department of Urban and Rural Development
Jasmine Zhang, Department of Urban and Rural Development (at time of application Department of Ecology)
Strong applications – strong potential
Janne Bengtsson, professor emeritus at the Department of Ecology, was a member of the assessment group reviewing the applications. He was impressed by the quality of the applications:
– We received five applications, which was good considering the short application period this first year. This shows that despite a short preparation period, our university can produce really good interdisciplinary applications. They all tackle difficult sustainability issues in impressive ways.
– This will also be an opportunity to connect the different campuses, where the researchers represent different skills and perspectives. Thus, the organisational challenge that lies in being divided geographically, can be turned into an additional value.
Karin Holmgren, former vice chancellor at SLU and now professor at the Department of Urban and Rural Development, was also part of the selection group. She also emphasises that all five applications to IDA were strong:
– We were pleased to see new and interesting interdisciplinary collaborations, spanning several science branches and also campus boundaries. In the KoN evaluation (Evaluation of Quality and Impact at SLU) in 2018, more collaboration across subject boundaries was called for – I think IDA really contributes to that.
– The applicants highlight the need for interdisciplinary holistic research perspectives to find solutions for long-term sustainable use of our green natural resources, Karin Holmgren continues. The applications proofed good insights into the need for in-depth discussion, open dialogue and communication to attack problems, understand goal conflicts and initiate possible solutions. My belief is that this will lead to new high quality collaborations and applications from SLU.
Physical and digital meetings
The IDA participants will for the coming 8 months devote 20% of their working time to explore and develop their theme together with their co-applicants. Ullbo house on Campus Ultuna, a red wooden villa embedded in greenery next to the Knowledge Park, will serve as the meeting place and creative environment for the participants.
The Interdisciplinary Academy is coordinated by SLU Future Food, with the support of the NJ faculty, but is aimed at all researchers at SLU. Janne Bengtsson praises the initiative:
– The fact that we strengthen our competence around sustainability and interdisciplinary will also make SLU a stronger player in comparison to other universities, and this can help us build our collaborations with other universities as well. This is cutting-edge interdisciplinary research!
More about Interdisciplinary Academy (IDA)
Call for applications 2022: The Interdisciplinary Academy – a new opportunity for SLU researchers
News item May 2022: Ny tvärvetenskaplig satsning https://www.slu.se/ew-nyheter/2022/5/interdisciplinary-academy-ida/
---
Contact