SLU news
Joint efforts in studying Mozambique's important seagrass beds by Swedish and local students
Published: 24 November 2022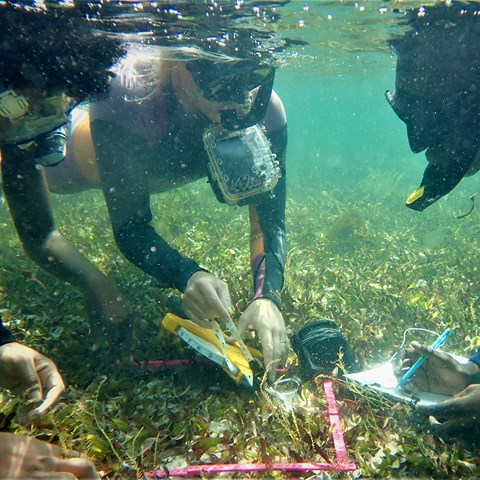 Small-scale fisheries provide millions of people in Mozambique with vital protein and micronutrients. In the Bazaruto Archipelago, local communities fish in nearby seagrass beds on a daily basis using small boats, often without engines. Similar to other coastal areas worldwide, there are however, indications that the catches are decreasing and that the sizes of fish in catches are changing in the area. Researchers from the Department of Aquatic Resources at the Swedish University of Agricultural Sciences (SLU Aqua) have therefore initiated a project together with the Bazaruto Archipelago National Park (BANP) to study the seagrass fisheries in order to improve future management plans.
In mid-October researchers and Master students from The Department of Aquatic Resources (SLU Aqua), Stockholm University and the Federal University of Santa Maria, Brazil travelled to Maputo in Mozambique for joint workshops with local researchers and students.
"The two workshops at Universidade Eduardo Mondlane (UEM) and Universidade Pedagogica (UP) aimed to strengthen ongoing collaboration, exchange knowledge, and network with new partners, says Charlotte Berkström, Associate Professor at SLU Aqua.
After the workshops, the Swedish team travelled to the Bazaruto Archipelago together with a Mozambiquan team consisting of researchers and students from UEM and UP.
The Bachelor students from UP in Maputo had recently participated in a marine biology program organised by the NGO Natura. They had learnt to swim and dive and participated in on-line lectures on the wonders of Mozambique's underwater world. To further advance their skills, these students joined the Swedish team in the field and practised various techniques for underwater data collection, including fish and habitat inventories snorkelling along transects and using gopro cameras when tides were too high for snorkelling.
The students with the help of interpreters also interviewed local fishers in order to understand where, with what gears, and how much that is fished in the seagrass beds of the Bazaruto Archipelago.
The researchers have now returned to their respective institutes, but the students are still collecting data until December.
"Workshops and fieldwork were a success and it feels great to contribute to capacity building of marine science in Mozambique", Charlotte concludes.
The Mocambique project is part of SLU Aqua's international development cooperation
---
Contact
Charlotte Berkström, Researcher
Department of Aquatic Resources, Institute of Coastal Research, SLU
charlotte.berkstrom@slu.se, +46 10 478 41 65