Call for ideas 2020/2021 projects selected
Published: 01 February 2022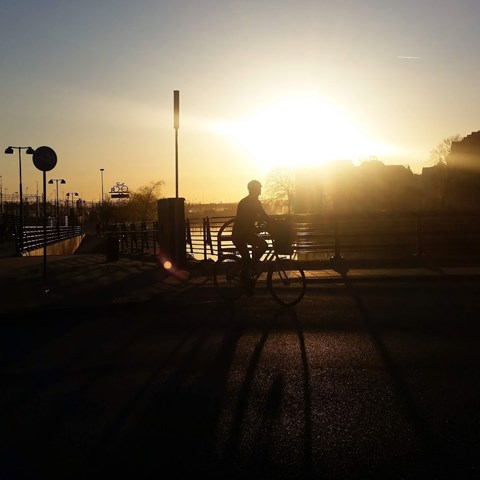 Four projects has been selected in SLU Landscape's Call for ideas 2021/2022: Next steps to sustainability
The Steering Group of SLU Landscape has decided to grant the following projects 50 000 SEK each for implementation in accordance with the applications:
Site impressions in sustainable landscape design
- network activities to strengthen design research at SLU
Main contact: Victoria Sjöstedt, LAPF

This project is arranged as a network activity in the format of two workshops (one in Alnarp, one in Ultuna), gathering teachers, researchers, students and practitioners with interest in urban landscapes and their design. In this network activity we explore how site impressions, connecting embodied poly-sensual experience to critical reflection, can become recognized to contribute to creating sustainable urban landscapes. The overall objective is to strengthen collaboration and knowledge exchange in the subject field of landscape design at the LAPF and SOL departments, and make design work at SLU more visible. Furthermore, our ambition is to initiate conversations with other universities for inspiration and knowledge exchange supporting design research at SLU, and shed light on the potential for a more long-term capacity building initiative, here suggested as a "SLU Landscape Design Research Forum".
The outcomes of this CFI-project include:
The establishment of a network of teachers, researchers, students and practitioners with interest in landscape design research, deepening contacts and exchange between LAPF and SOL, strengthening the design subject at SLU.

A concrete proposal for a Design Research Forum at SLU Landscape, as a long term capacity building initiative, operating transdisciplinary, gathering teachers, researchers, students and practitioners.

A booklet documenting experiences from the network activity, with material to elaborate into a publication on design research, as one of the start-up tasks within the Design Research Forum.
Engagement
Gunilla Lindholm, Victoria Sjöstedt, LAPF
Hildegun Varhelyi, Malin Eriksson, SOL
Sustainable landscape design of semi-public spaces
Main contact: Maria Wisselgren, SoL
This project is centred around a study trip to Berlin with focus on visiting local housing areas and school grounds with assumed high values for sustainability. The trip will be planned in spring, made in summer, and discussed and reported in autumn 2022. Focus is on the usefulness of knowledge about sustainable approaches in sites in Berlin for education and research within SLU Landscape, and for landscape architecture in general.
Sustainable landscape design relies heavily on the functionality of site-specific landscape processes, combining for example design, ecology and management. Semi-public environments, such as school grounds and housing areas, contain some of the most used places in peoples everyday lives and their potential contribution to a sustainable development in social and ecological perspectives deserve particular attention. Berlin is a city with much interesting examples, known for its interesting, progressive landscape solutions and urban ecology.
Engagement
Bodil Dahlman, Emma Butler, Marcus Hedblom and Maria Wisselgren, SOL
Fredrika Mårtensson, IMS
Märit Jansson, LAPF


Landscape Architecture education and the wicked problem of climate
change
Main contact: Malin Eriksson, SoL
This project Landscape Architecture education and the wicked problem of climate change has been part of an ongoing process of mapping and developing the climate related content in the Landscape architecture programmes at SLU. The contribution to the process is knowledge and inspiration from other educational environments.
The Neurology of Sustainability: Studying Neurophysiological Indicators of Attention Restoration Theory, Stress Reduction Theory, and Nature
Connectedness
Main contact: Jonathan Stoltz, IMS
The project will be carried out in collaboration with SLU Multisensory Outdoor Laboratory (Sensola).
The purpose of the project is to try out new methods to uncover psychophysiological mechanisms relevant to how people attend to nature and nature-like environments. There is a particular emphasis on stress recovery.
Stress levels of 12 participants will be measured, partly through skin conductance and heart rate variability and partly by measuring brain activity in different areas (fNirs).
One novel aspect of the project is that all measurements are carried out outdoors while the subjects stay in actual environments.
At the end of the project, a workshop will be organized where the results will be presented and the SLU Multisensory Outdoor Laboratory will be demonstrated.
Facts:
---
Contact
SLU Landscape
SLU Landscape operates as a cross-institutional network for collaboration and joint profiling of work done in the landscape subject area at SLU. It is one of the largest environments for research and teaching in landscape architecture in Europe.