Forest damage experts of tomorrow will come from SLU
Published: 21 April 2022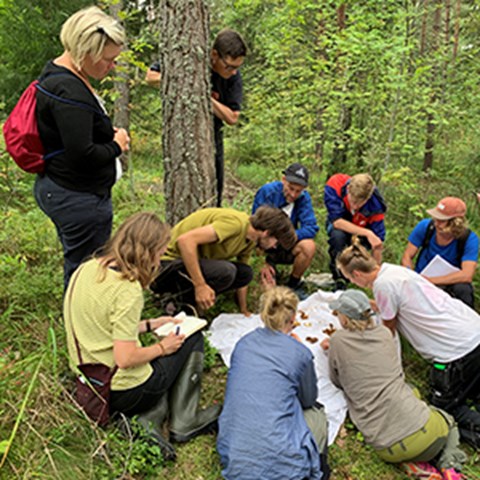 In the end of the summer SLU Forest Damage Centre will start a new research school with a first cohort of students. The aim is to provide society with new knowledge on forest damages and forest damage experts with general understanding of forest damages as well as deep knowledge on specific subjects . Åke Olson will be in charge of the research school.
Why is SLU starting a research school on forest damage?
There is a need for skilled people in the field of forest damage. Both within the academy, but also within companies, authorities and organizations. New researchers and teachers will be needed. In addition to that, a lot of research at SLU is conducted by our doctoral students, so it is also an investment in the development of new knowledge through the research of the students.
This is also and important competence with regard to future climate change. We have reason to believe that the risks of forest damage will look different in many places in the future.
Has there been a lack of expertise on forest damage in the past?
Yes, there has been a lack of competence and an overall understanding of the consequences of forest damage to society and industry. This applies to both society as a whole and to the availability of trained specialists. There is a need for an increased understanding of how we manage the forests, how we manage the nature reserves and we also need to educate our politicians. If you do not understand the problems and the context, you do not prioritize the issue. So these researchers will have important tasks both within the university and in society.
How will the research school be organized?
It will be a broad thematic school open to doctoral students with applied as well as basic scientific research questions, in natural sciences but also in social sciences. The school will be run in collaboration with external actors, e.g. authorities such as the Swedish Forest Agency and forest companies. For those who wish, there will be an opportunity to conduct 20% of their studies at an organization. Representatives of companies and authorities can contribute as supervisors or mentors. In this way, both research students and external actors get a chance to gain networks and contacts. We will accept students from all of SLU's locations. Geographical spread is important as the risk of damage looks different in different parts of the country.
Who can join?
Everyone who wants to! A first group of doctoral students will be accepted after the summer, based on both requests from external organizations and internal proposals for research projects. But all doctoral students who work with relevant subjects are welcome in the research school. You will also be able to participate in all courses without being part of the research school. When we have the first group in place, we will open the invitation to anyone who wants to. I hope that many will take the chance and sign up when we get started.
Why is it important to have external contacts and networks?
It is partly about understanding the expectations of oneself as an academic expert, and partly about looking at forest damage issues from the perspective of authorities and companies. It is important to see things not just from the acamdemic view. I believe doctoral students who do not have a direct contact but focus on basic science also will benefit from the network.
---
Contact