Popular Science Communicating Forest Research
Published: 07 February 2023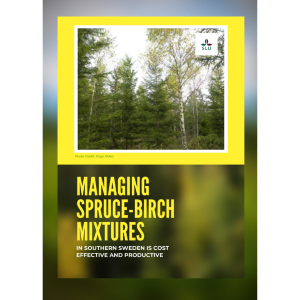 Increasingly the scientific community is recognizing the important role of 'storytelling' through popular science. Popular science outputs vary on the level of 'creativity'. On one end of the continuum, outputs range from policy briefs and journalistic articles to the other end of the continuum with creative photo-story books, videos, or comics.
TikTok, Instagram, YouTube, or Twitter are social media platforms where one is sharing information for debate in a room filled with people who lack the expertise or those who have other agendas. The validity of an argument and targeting the right audience are critical. Popular science, therefore, is the best option for researchers to publish their work using diverse outputs from policy briefs to videos, films, podcasts even graphic illustrations like comics. One can communicate scientific research in a simplified story to reach out to a diverse range of audiences – from children to policymakers.
Purabi Bose, course leader of a new SILVA Ph.D. course, Communicating Forests and Land-Use Research in Popular Science, considers the role of the researchers in communicating science to a wider audience as an integral element of doing science. This international Ph.D. course taps into developing this skill among Ph.D. candidates at SLU's Forest Faculty and other international HEIs.
– Many scientists lack understanding of how to communicate, but also fail to present relevant information to the journalists, says Barbara Fraser, an American journalist, who was one of the many guest lecturers.
She used forest and land issues to explain how to write journalistic articles and shared a list of 'tips' on communicating with journalists. One of the main learning outcomes was to orient participants to numerous possibilities of channeling research results and letting them decide to choose popular science based on their doctoral research topic, personal skills or interest, and the target audience.
Art of forest management!
One of the lectures was on how to use comics in disseminating science by Amrita Barua, a graphic illustrator, who inspired course participants to produce art and use it for this course assignment. Olha Nahorna, one of the 20 participants in this course, is a doctoral candidate at the Norwegian University of Life Sciences (NMBU) sketched a hand-drawn comic strip as part of her assignment.
– This Ph.D. course really made me think outside the box and look at my research from a new perspective. I had a good understanding of the importance of popular science communication, but now I also have a great understanding of the various tools and techniques that could be used for it, which I got during our classes, said Olha.
Her inspiration is from her initial struggle to grasp all the steps involved in forest management, and her comic strips provide a systematic flow of processes breaking down complex terms. She created a comic story strip, entitled, 'A Poet and his Woods', which is about a poet who is a forest owner and is helped by a Captain Forester to manage the forest sustainably.
– To me, this course had interesting lectures from experts in different science communication mediums, but for me, the highlight was getting a reason to produce my own popular science work. I could express my research while getting in touch with my artistic and creative side, which is less represented in purely scientific work, says Mariina Günther, one of the participants, from the University of Eastern Finland.
She took the course assignment to the next level by combining multiple course lectures like print, storybook, and graphic illustration from this Ph.D. course. Her hand-drawn sketches and storybook illuminate a brilliant story of her research narrating the life cycle of a kelo tree for scientific and non-scientific audiences. A full version of Mariina's assignment for this Ph.D. course, and work-in-progress sketch storybook is available in this hyperlink, 'Life Cycle of a (Kelo) Tree'.

Photos tell a forest story
The lecture on the photo-story book influenced Daniel Martey Junior Mensah, a doctoral candidate at the SLU's Department of Forest Resource Management, Umeå, Sweden. Encouraged by the idea, Daniel used his course assignment to create a photo book for children aged 8-10 years old, entitled, Forests in Sweden: Sustainable Forest Management and Climate Change. Based on his own Ph.D. research, the photo book tries to explain forest science without using any technical terms to the children.
– I always loved taking pictures and this course gave me more inspiration and ideas to use in my Ph.D. The course gave a good overview of various communication channels that scientists can use to engage different types of audiences. I enjoyed working on my assignment and challenging myself to find the right words, pictures, and layouts that best suited my research, says Beatrice Tolio, a doctoral candidate at the SLU's Department of Southern Swedish Forest Research Center, Alnarp, Sweden.
Popularizing Popular Science
The best learning happens with the diversity of the participants, and the online course helped to reach out to participants in Cameroon, Rwanda, and Vietnam including those in Europe. Half of the cohort was from SLU's Forest Faculty, and the other half was from global HEIs like Wageningen University, the Netherlands, and Sokoine University of Agriculture, Tanzania. Interestingly, many of the waiting list participants for this course are staff of the HEIs, who are equally keen to learn and popularize the popular science in their academic institutions. This SILVA Ph.D. course hopes to accommodate other staff of HEIs in the near future. Charlotte Håkansson, a doctoral candidate from Linnaeus University, nicely sums up this course as a space "to learn about different image and sound-based ways of communicating, and to meet colleagues from different parts of the world." As for the course leader, Purabi Bose, the outputs of the course assignment were meant to be fun for doctoral candidates, and she is happy to see the result which is a small, but beautiful step towards creating a culture of creative science for people.
---
Contact