SLU news
European bison and moose can expand within Central Europe - if humans allow it
Published: 16 March 2023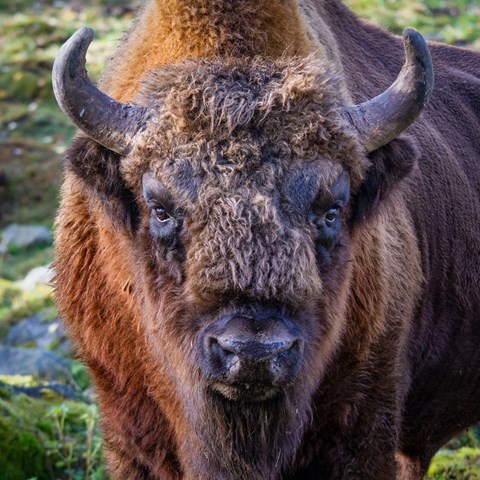 Throughout history, bison and moose have been displaced and gone extinct in many parts of Central Europe. Suitable ecological habitats, however, do exist for both species for re-colonization, according to a study involving researchers from several European countries. What may hinder the return of these two large-bodied species is our fragmented landscape with fenced roads and fenced borders that hamper animals' movements, and the risk of not being accepted by humans.
Large herbivores such as bison and moose have played an important role in our ecosystems for thousands and millions of years, but have been driven out of many areas by humans in the past and thus have become extinct in many parts of central Europe. In recent years, both species have spread westwards from Eastern Europe, with sporadic sightings of moose and bison in eastern Germany.
A new study led by researchers at Humboldt University in Berlin in collaboration with researchers from Sweden (The Swedish University of Agricultural Sciences, SLU), Germany, Poland, the Czech Republic and Austria now shows that there are suitable habitats in Germany for both species to re-colonize.
"We found many areas that provide ecologically-suitable habitats for both species, even though Central Europe is very densely populated and characterized by many infrastructure features," says Wiebke Neumann, a researcher at the Swedish University of Agricultural Sciences (SLU) and co-author of the study.
Movement barriers must be removed
To reach this conclusion, the research team compiled the largest dataset to date on the occurrence of bison and moose in Central Europe. Using these datasets in habitat models mapped all ecologically suitable habitats.
Findings highlight that the fragmentation of the landscape in Central Europe is an obstacle to natural expansion and re-colonization of moose and bison. Fenced motorways and roads, as well as border fences, can slow or halt the expansion of animals to new areas.
"This is problematic, because for species that move over large areas such barriers may hinder long-term conservation. This includes daily movements as well as seasonal migratory movements. Migratory animals are usually quite faithful to their migration routes and migration ensures exchange between different populations. For example, in moose, bulls can migrate to other areas for rutting – we have seen this in some Swedish populations in the north of the country. Such movements favour genetic exchange among populations and thus can increase populations' genetic diversity. Higher genetic diversity increases species' ability to tackle environmental stressors and to adapt to future changes in habitat and climatic conditions," says Wiebke Neumann.
Today, there are various possibilities to permit easier movements of wildlife. However, large-bodied species require larger constructions compared to small species that can use culverts or smaller tunnels to pass under a road. If we built viaducts, overpasses or green bridges over motorways or railways, moose and bison could reach habitats suitable for them on the other side of these barriers. If constructions like this are not possible, active reintroduction projects can accelerate the return of moose and bison.
Social acceptance is crucial
The existence of suitable habitats and the removal of movement barriers, however, are not enough to bring these species back.
"In the end, the social acceptance of the species will determine whether a return of moose and bison to Central Europe will be possible," says Wiebke Neumann. "This can be a political question. We have to decide to which areas we humans will allow them to return and how we will manage the conflicts that may arise in connection with, for example, forestry. These are questions that need to be addressed."
Scientific article
Bluhm, H., Diserens, T.A., Engleder, T., Heising, K., Heurich, M., Janík, T., Jirků, M., Klich, D., König, H.J., Kowalczyk, R., Kuijper, D., Maślanko, W., Michler, F.U., Neumann, W., Oeser, J., Olech, W., Perzanowski, K., Ratkiewicz, M., Romportl, D., Šálek, M., Kuemmerle, T. (2023): Widespread habitat for Europe's largest herbivores, but poor connectivity limits recolonization. Diversity and Distributions, 00, 1– 15. https://doi.org/10.1111/ddi.13671
---
Contact