Royal grant for research into unknown environmental toxins in water
Published: 30 May 2023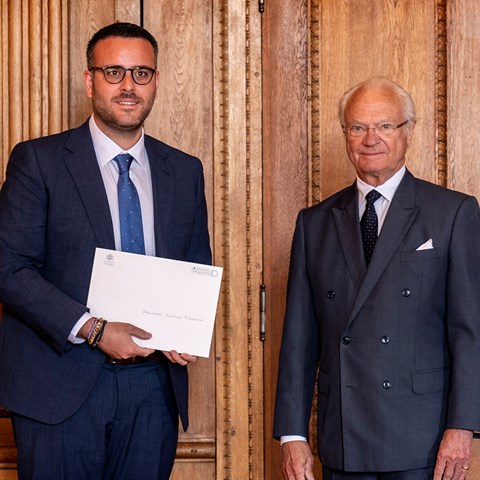 Alberto Celma Tirado has been awarded a scholarship from the King Carl XVI Gustaf Foundation's 50-year fund for science, technology and the environment. He receives the scholarship to develop new methods that help find unknown environmental toxins in water.
Alberto Celma Tirado, Department of Water and Assessment, SLU, will be awarded a 100,000 Swedish kroner scholarship in 2023 for "New methods for finding unknown environmental toxins in water". During the awarding ceremony, Brigit Erngren Wohlin, secretary on the board of the foundation King Carl XVI Gustaf's 50th-anniversary fund, announced the motivation:
"Up to 99% of the measured toxicity in water samples from runoff from the street network is caused by chemical substances or mixture effects when different chemical substances interact.
One way to find out what causes toxic effects in the aquatic environment is to combine toxicity tests in cultured mammalian cells that have been made sensitive to specific toxic effects with advanced chemical analysis that can detect unknown substances, so-called effect-driven analysis. New hitherto unknown environmental toxins can be identified and this is important for understanding which substances pose the greatest risk to our health.
Alberto Celma Tirado works with advanced chemical analysis methods and is now running a project where, with the help of toxicity tests in different fractions of stormwater samples, he can study which chemical substances exert the toxic effect.
Alberto Celma Tirado receives a scholarship of SEK 100,000 for "New methods for finding unknown environmental toxins in water"."
- Personally, this means recognition for hard work, comments Alberto. In academia, we are all well aware that a scientific career is a long-term investment, where you constantly have to work hard to develop. In this sense, awards like this are not only a professional recognition, but also a personal one. Therefore, it is motivating to keep pushing for the future.
During a ceremony in the Bernadotte Library at the Royal Palace, Alberto and 9 other researchers received diplomas from the King's hand. During the ceremony, this year's visiting professor Keith Paustian also gave a lecture. The visiting professorship is part of the foundation's work and contributes every year to an international visiting professorship for environmental science research at a Swedish university.
- I already have plans for the funding I received, says Alberto. I am in contact with a researcher at the Vrije Universitet in Amsterdam who has extensive experience with the combination of biological and analytical methods for the detection of toxic substances in water systems. We have similar equipment and facilities at SLU, and I will conduct a research stay in her lab to gain more insights into this methodology and bring the knowledge back to SLU.
In order to be awarded a scholarship from the foundation, you need to be nominated, a scholarship cannot be applied for. The foundation's purpose is to promote research, technical development, and entrepreneurship, which contribute to the sustainable use of natural resources and the conservation of biological diversity. The foundation was added in connection with HM the King's 50th birthday.
Previous fellows at the department:
Malin Olofsson (2022)
Anna-Karin Dahlberg (2021)
Karin Eklöf (2019)
Foon Yin Lai (2019)
Lutz Ahrens (2014)
---
Contact