Vice-Minister of Science and Higher Education of the Republic of Kazakhstan visited SLU
Published: 18 May 2023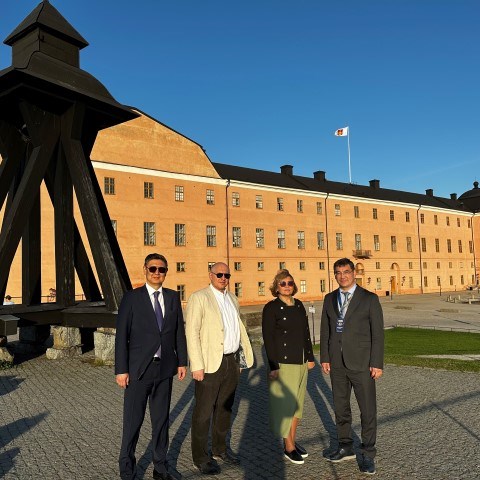 On Friday May 12th SLU and the Department of Molecular Sciences received a visit of delegation from the Republic of Kazakhstan led by the Vice-Minister of Science and Higher Education Dr. Kuanysh Ergaliev and the Counsellor of the Embassy of Republic of Kazakhstan to the Kingdom of Sweden, Mr. Seit Nurpeissov.
The delegation was welcomed by Prof Gulaim Seisenbaeva and Assoc Prof Galia Zamaratskaia who actively collaborate with the Universities of Kazakhstan and Prof Vadim Kessler, Head of the Department of Molecular Sciences and Honorary Consul of the Republic of Kazakhstan in Central Sweden. The reason for the visit is a strong interest from the Kazakh Government to strengthen collaboration with Swedish Science and Higher Education Establishments and to develop student exchange programs at different levels – from undergraduate to PhD students.
The vice-minister met the University's researchers and teachers in the fields of inorganic chemistry and food sciences to discuss existing joint projects between Sweden and Kazakhstan and to identify new avenues for further collaboration in research and education.
Professor Vadim Kessler informed the vice-minister about the department's progressive work in the area of molecular sciences and explained the principles of the educational system in Sweden. Kuanysh Yergaliyev was especially interested in opportunities to obtain Swedish education for young people from Kazakhstan.
Professor Gulaim Seisenbaeva gave deeper insights into research in inorganic chemistry. She said: "We have excellent research at SLU, which connect our scientific expertise with commercial applications. It is great to be able to bring the benefits of fundamental research to "real-life". For example, we are resolving issues with water contamination with the help of hybrid adsorbents combining an inorganic matrix and specific organic functions for catching inorganic or organic pollutants in aqueous solutions". Gulaim Seisenbaeva also shared her experience in collaborating with Kazakhstan universities in teaching and supervising exchange students and young researchers.
"We also have a lot of collaboration within the food and animal sciences with Kazakhstan. Now we are running two projects, one is focused on food for the elderly and another on bioactive compounds in feed with health-promoting properties", continued Galia Zamaratskaia. "It should be emphasized that our collaboration was not put on hold and could continue to communicate during the pandemic situation via zoom. We organized online internships for students from several leading universities in Kazakhstan and prepared a virtual excursion for researchers and teachers", added Galia Zamaratskaia.
During the visit, the vice-minister heard more about our research in the different areas of molecular sciences. The vice-minister ended the visit with a tour of our laboratories and he was impressed by our state-of-the-art facilities and advanced equipment.
"We are opening a new page in relations between Kazakhstan and Sweden, and Kazakhstan is ready to support all kinds of collaboration including research and education and students/staff exchange between universities. We intend to make a significant contribution to extend and broaden our successful collaboration", ensured Kuanysh Yergaliyev.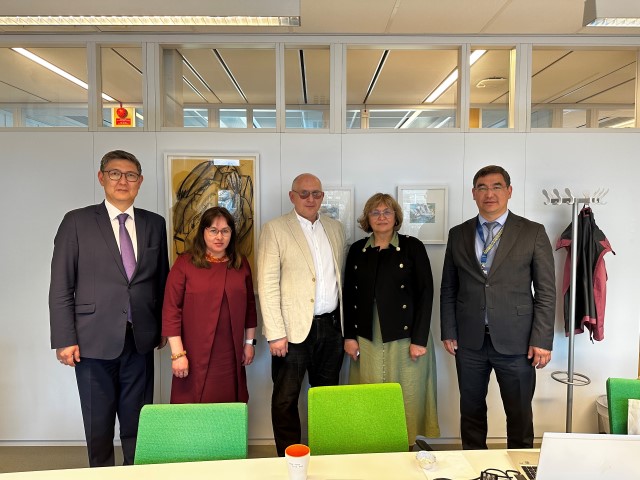 From left to right: the Counsellor of the Embassy of Republic of Kazakhstan to the Kingdom of Sweden, Mr. Seit Nurpeissov, Assoc Prof Galia Zamaratskaia, Prof Vadim Kessler, Prof Gulaim Seisenbaeva, and Vice-Minister of Science and Higher Education Dr. Kuanysh A. Yergaliyev
---
Contact