SLU news
The SLU Honorary Doctors 2023
Published: 27 June 2023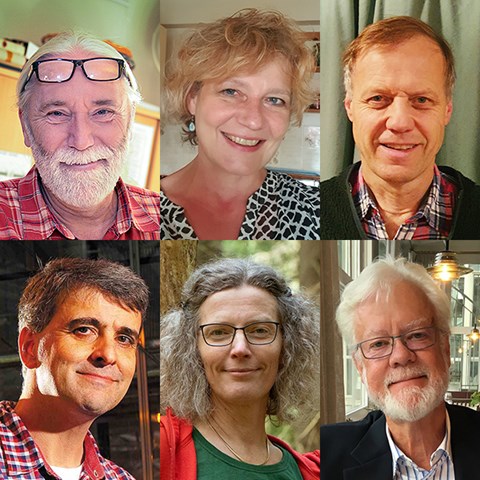 The Swedish University of Agricultural Sciences has awarded six honorary doctorates this year. There are three international recipients – Professor Anne Sverdrup-Thygeson, Norway, Research Director  Emmanuelle Jacquin-Joly, France, and Professor Malcolm Bennett, United Kingdom, and three Swedish recipients – Tree Specialist Björn Embrén, Stockholm, Agronomist Lars Ericson, Umeå, and Senior Veterinary Surgeon, Peter Forssberg, Solna.
They will receive their honorary doctorates during the conferment ceremony in Uppsala on 7 October 2023. Our honorary doctors will hold public lectures on 6 October.
Below, you can read more about the six honorary doctors appointed by the SLU faculties in 2023.
Faculty of Landscape Architecture, Horticulture and Crop Production Science
Björn Embrén, consultant and former tree specialist for the City of Stockholm, has developed planting beds based on macadam, biochar and compost. This has completely transformed how we build around these essential urban trees. Through long-term, methodological and creative experimentation followed by evaluation and refinement, Björn Embrén has demonstrated how we can ensure our urban trees thrive – not just survive. The lectures and guided excursions Björn Embrén provides the future landscape engineers and architects at the faculty are highly appreciated.
Björn Embrén. Photo: Björn Embrén
Research Director Emmanuelle Jacquin-Joly from the INRAE research centre in Versailles researches chemical communication in insects. One of her greatest interests involves investigating insects' sense of smell at a molecular level, to develop new biological pest control methods. She also researches how olfactory receptors have evolved over time, and enabled insects to adapt to new host plants. For over 20 years, Emmanuelle Jacquin-Joly has made significant contributions to research and education at the LTV Faculty.
Emmanuelle Jacquin-Joly. Photo: Emmanuelle Jacquin-Joly
Faculty of Natural Resources and Agricultural Science
Agronomist Lars Ericson, Västerbotten County Administrative Board, has made considerable contributions to both Swedish agriculture and SLU. Between 1988 and 2008, he was head of SLU's agricultural field research in the Northern district, where he was responsible for long-term agricultural experiments and Sweden's official variety testing. Since leaving SLU, he has worked in many roles involving continuing professional development in agriculture in northern Sweden. He has also been an active member of several associations and organisations, including Agricultural Research for Northern Sweden, the Swedish Farmers' Foundation for Agricultural Research, and Svenska vallföreningen. He now sits in the steering group for SLU Grogrund. Following his SLU career, he has acted as a link between the university and industry, further contributing to agricultural development throughout Norrland.
Lars Ericson. Photo: Gun Bernes
Faculty of Forest Sciences
Professor Malcolm Bennett from the University of Nottingham is one of the world's leading plant physiologists. His work with root development has been fundamental to plant research, and his research team has identified a number of genes that determine how roots are formed and developed. Malcolm Bennett has provided enormous support with the growth of the Umeå Plant Science Centre, a collaboration between SLU and Umeå University, and collaborates with several of the centre's research teams. He has also acted as a mentor for younger team leaders, contributing significantly to their academic progress.
Malcolm Bennett. Photo: University of Nottingham
Anne Sverdrup-Thygeson is professor of biology at the Norwegian University of Life Sciences and advisor to the Norwegian Institute for Nature Research. Her research and teaching address nature management, insect ecology and forest biodiversity. In 2018, she published her book, 'Extraordinary Insects: Weird. Wonderful. Indispensable. The ones who run our world' which has since been translated into 25 languages. The book's publication propelled her from being a leading researcher into her additional role as an incredibly successful purveyor of knowledge. Some of her most recent books have been aimed at a younger readership. In 2019, Anne Sverdrup-Thygeson was also featured on one of Sweden's most iconic radio shows, Sommar i P1.
Anne Sverdrup-Thygeson. Photo: Celina Øier
Faculty of Veterinary Medicine and Animal Science
For many years, Senior Veterinary Surgeon Peter Forssberg was responsible for the SLU clinic of equine medicine. He has also worked as the senior veterinary surgeon for the ATG and Svenska Travsportens Centralförbund trotting associations. Peter Forssberg has made groundbreaking contributions to establishing and managing disease control in Swedish trotting and thoroughbred racing, including regulations and inspections, together with questions on animal welfare and doping. Peter Forssberg's innovative thinking and wisdom that inspires confidence also led him to top positions within the sport, working with these issues at both Nordic and international level. Thanks to his work with disease control, horse keeping has become highly significant in both Sweden and at the faculty.
Peter Forssberg. Photo: Jonna Wagner-Forssberg
---
Contact