SLU news
ERC Starting Grant to microbial ecologist
Published: 06 September 2023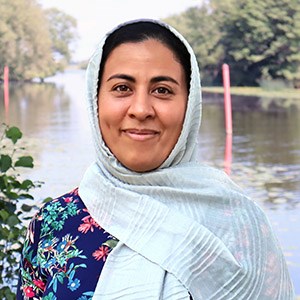 A microbial ecologist at SLU has been awarded one of the most prestigious research grants in Europe, a Starting Grant from the European Research Council (ERC). Maliheh Mehrshad will use the grant to improve our understanding of the evolution of viruses that infect bacteria. ERC starting grants are worth on average €1.5 million.
Maliheh Mehrshad's research focuses on interactions between viruses and their bacterial hosts, more specifically the so called multi-parasitic interactions. This is when several phages (viruses that infect bacteria) infect a single bacterial host. Viruses are the most abundant and diverse biological entities on earth. They play an important role in the ecology and evolution of their hosts. Phages are dependent on their hosts for replication, a relation that has defined the evolutionary trajectory of both parties for millions of years.
In recent years, accumulating evidence, including from Maliheh Mehrshad's work, suggests that besides interactions between phage and host, the simultaneous infection of bacterial host cells by multiple phages (co-infection) could be a key factor driving phage genome evolution.
"The prevalence of phage co-infection in natural settings is largely non-explored up until now. This means that the real extent and importance of this enigmatic gene flow in phage genome evolution remains unknown. Via my ERC starting grant project, my team and I will set out to develop a novel approach for precisely deciphering how phage co-infection governs the co-evolutionary dynamics of phage genomes", explains Maliheh Mehrshad.
Phages are mobile genetic elements and contribute to the gene flow we observe in nature. One example of this could be the distribution of antibiotic resistance genes. Improved understanding of how phage genomes evolve and interact with each other during co-infection of their bacterial hosts will increase our understanding of the extent and mechanisms of such gene flow in the nature.
Maliheh Mehrshad is a researcher at the Department of Aquatic Sciences and Assessments at SLU in Uppsala. She obtained her PhD in 2016 at the University of Tehran focusing on metagenomic survey of the microbial community of the Caspian Sea. Later, she did Post Doctoral fellowships at the Biology Centre CAS, Czech Republic, and at the Department of Ecology and Genetics at Uppsala University. She joined SLU in September 2020.
The ERC Starting Grant is awarded by the European Research Council to Europe's most promising researchers at the outset of their careers. The winning researchers and their projects are ranked through peer review and in intense competition. This year, 2696 researchers competed for the starting grant, and 15 per cent of them were granted. 19 of these researchers are from Swedish universities.
The research grant helps researchers build a research group, conduct excellent research, and establish themselves as research leaders in Europe. This is the fifth time researchers from SLU have been granted the starting grant from the ERC.
Press release from the ERC
https://erc.europa.eu/news-events/news/erc-2023-starting-grants-results
Contact person
Maliheh Mehrshad, Researcher
Department of Aquatic Sciences and Assessment; Division of Microbial Ecology
Swedish University of Agricultural Sciences, Uppsala
E-mail: maliheh.mehrshad@slu.se
https://www.slu.se/en/ew-cv/maliheh-mehrshad/
---
Contact