Worth knowing Ultuna
Last changed: 16 November 2023
The events consist of short popular science lectures about SLU research. The university's research dares to question established knowledge and aims to solve real problems for a living world. Everyone is welcome.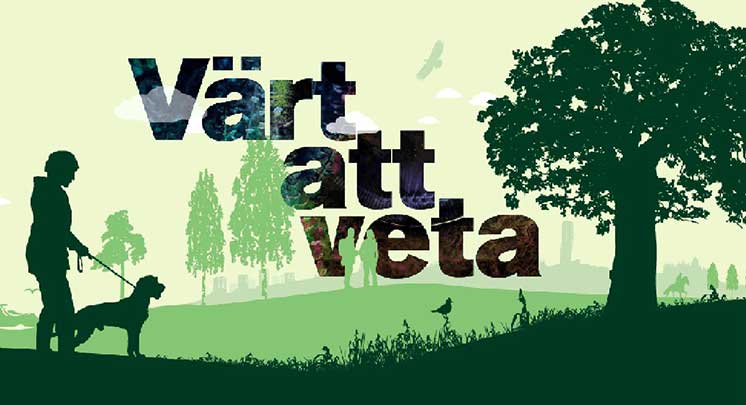 Worth knowing
"Worth Knowing" is the SLU Library's popular science lecture series. The aim of the series is to share and increase awareness of SLU's research, both at our own university and with the general public.
How it works
The lectures are held in the SLU Studio in Undervisningshuset at Ultuna. If you can't join us live, the lecture is also live-streamed on SLU Play. A few weeks after the event a captioned recording will be available on SLU Play.
The lectures start at 12.15 and last until 13.00. The last quarter is usually devoted to questions.
Soup is served free of charge from 12.00 outside the Studio. Please note that you won't be able to bring the soup with you into the Studio.
No pre-registration is required.
The autumn lectures are held in Swedish. It is the SLU library that organizes Worth knowing.
The autumns lectures
16 November
The mycelial network of mushrooms – not a large one, but several small ones.
The mykorrhiza fungi of our woods are numerous and of great importance. They grow beneath the ground in a mosaic of small and competing mycelia, far from the widespread image of one large connected and communicative network. Professor Anders Dahlberg from the Department of Forest Mycology and Plant Pathology explain what science teaches us about the life, variation and mycelia of mykorrhiza fungi.
7 December
Does Mechanical Site Preparation Cause Increased Carbon Emissions?
Monika Strömgren, researcher at the Department of Soil and Environment, offers a lecture about how the land of Swedish forests typically contains more carbon than the trees and how there is a concern that instances of the land being disturbed, for example by mechanical site preparation or stump harvest, cause the release of soil carbon, leading to significant carbon emissions. However, new research shows that the mechanical site preparation used in Sweden does not cause an increase in carbon emissions.
Earlier lectures this autumn
21 September
The Right Thing in the Right Place: From Desk to Dirt
Nutrients used in farming, such as nitrogen and phosphorus, contribute to the overfetilization of rivers, lakes and the sea. The means to effectively combat this is largely dependent on local conditions. Faruk Djodjic, researcher at the Department of Aquatic Sciences and Assessment, explains how scientists can aid farmers and the government in their work against overfertilization.
5 October
How to diagnose and cure osteoarthritis in the future?
Osteoarthritis is the most common joint disease among humans and also the most common reason for pain and lameness among horses. With a focus on comparative medicine Eva Skiöldebrand, professor at the Department of Biomedical Science and Veterinary Public Health, details what the future treatment of this common disease might look like at the second Worth Knowing lecture at Ultuna this fall.
Lectures spring 2023
May 11
Ulf Bergströms offers a lecture on pikes. Please see Swedish page.
Thursday 20 April
How does authoritarianism fuel natural resources depletion and vice versa?
Constructing environmentally sustainable and democratic political regimes constitutes the most important political project of our times marked by climate change and the proliferation of authoritarianism.
Noémi Gonda, researcher at the Department of Urban and Rural Development, investigates how authoritarian governments in countries such as Hungary and Nicaragua, use land grabbing, energy policies and climate change interventions to favour right-wing political elites, respond to geopolitical interests, and reproduce oppressive relations. Addressing this challenge will require rapidly re-inserting sustainable environmental politics into a broader agenda of democratic governance.
Thursday 2 March
Myror – vanliga, farliga och nyttiga (Ants - common, dangerous and useful)
Ants are the most common organism group in the world, and they weigh more than all wild mammals and birds together. Ants are both dangerous and useful. In woods, gardens and on farmland they do us a great service by eating pests – but they can also cause harm.
Christer Björkman and Michelle Nordkvist from the Department of Ecology tell us more about the exciting life of ants.
Lectures Autumn 2022
28 November
Habitat Loss and Climate Change: A Deadly Cocktail for Biodiversity?
The loss of important habitats and a warmer climate are considered two of the primary threats to biodiversity. There's a growing concern that the combination of these threats may exacerbate the negative effects on animals and plants in the coming decades. Focusing on birds, butterflies and plants in Sweden and Great Britain, Alistair Auffret discusses how various species have been affected by previous land use and climate changes, and what this might mean for the future.
Alistair Auffret is a Senior lecturer in landscape ecology at the Department of Ecology.
October 31
Centring care work in climate action: addressing the care and climate crisis
The global care crisis is being exacerbated by the global climate emergency, with interlocking impacts that threaten lives and livelihoods in all parts of the world. These impacts are particularly severe in resource-based economies and make everyday life difficult for people living with scarce resources and low incomes in rural areas of the global South.
Drawing on a new report co-written with colleagues for Oxfam, Seema Arora-Jonsson will talk about the intersections of climate change and care work, and how they have been largely overlooked in policy and the literature on climate change.
Seema Arora-Jonsson is a Professor at the Department of Urban and Rural Development, Division of Rural Development.
The lecture is held in English.
Lectures spring 2022
19 May
Who is the park for?
Park management and user groups
Park management is a large industry, focusing on maintenance and development of open spaces. Through management, qualities with large importance for the health and well-being of people can be created. But various user groups have various needs. The challenge is to develop parks that are meaningful for those who need it the most. This leads to questions such as: Who is the park for? And How can the park management be adapted to the needs?
Lecture with Märit Jansson who is a landscape architect at the Department of Landscape Architecture, Planning and Management in Alnarp. Märit is particularly interested in the use and management of urban landscapes.
See the lecture
SLU Play (In English)
7 April
Fly larvae in circular waste management
A waste management method that follows the principles of a circular economy is fly larval composting, where fly larvae convert biodegradable waste into their own biomass and a compost fraction. The larval biomass can then be used in animal feed while the compost can be spread as an organic fertilizer.
A lecture with researcher Cecilia Lalander at the Department of Energy and Technology.
See the lecture
10 March
Truths and myths about bee deaths
Recent alarming reports of declining insect populations and headlines about extensive bee death has led to an increased interest for and focus on pollinating insects, not least our important bees.
Senior lecturer Eva Forsgren at the Department of Ecology gives a lecture about the so important bees and what benefit they do.
See the lecture
3 February
Faba bean fractions for 3D-printing of protein- and fibre-rich foods
Lecture with Klara Nilsson och Mathias Johansson.
3D-printing is relatively little used in the food industry today but has gained a lot of interest and publicity in recent years. One of the biggest challenges of food 3D printing is creating printable inks with suitable properties for the given application and processing.
The lecture is given by Klara Nilsson and Mathias Johansson. They are PhD students at the Department of Molecular Sciences and have been investigating the possibility of using faba bean-based materials for 3D printing of protein- and fibre-rich foods.
Lectures autumn 2021
9 december, 12.15–13.00
How to detect lameness in horses? – research on equine locomotion at SLU
In this lecture Marie will talk about how you can detect if the horse is lame, and also about motion analysis using techniques to understand the horses motion.
Marie Rhodin is working as a researcher, clinician (equine orthopaedics) and teacher. Maries interest is orthopaedics and clinical biomechanics in horses. Marie is studying orthopaedic disorders and locomotion in horses in training or during lameness examinations.
18 november
Swedish perspectives on an issue of life
Håkan Tunón, Senior Research Officer at Swedish Biodiversity Centre, will present the newly published book Biologisk mångfald, naturnyttor och ekosystemtjänster ("Biodiversity, nature's contribution to people, and ecosystem services"). Over fifty researchers have contributed to the anthology, a unique multidisciplinary approach to biodiversity as a societal issue.
21 October
Hunden – människans bästa vän i nöd och lust
Lecture with veterinarian Henrik Rönnberg
The lecture is about the dog, man's best friend, and how dogs can help us reach new knowledge about various diseases and treatment methods.
Henrik Rönnberg, veterinarian and professor of internal medicine, talks about how immunotherapy against malignant melanoma in dogs has optimized the clinical treatment of the same disease in humans.
Henrik Rönnberg has been a veterinarian since 1994 and professor of internal medicine, small animals at SLU. Became a DiplECVIM-CA in oncology in 2009 and has an oncology specialist clinic at UDS at SLU. He has previously also worked in the pharmaceutical industry to produce new cancer drugs for both humans and animals.
Lectures spring 2021
May 6
Malin Nilsson: The Tollar disease – diagnosis, treatment and research
The dog breed Nova Scotia Duck Tolling Retriever succumbs an increased risk for immune mediated disease as well as certain types of cancer. In humans studies have shown that certain immune mediated diseases increase the risk for cancer, as do chronic inflammation. Malin Nilsson and her colleagues are now studying these relationships in a breed with a high incidence of both.
Malin Nilsson will talk about the expression of the diseases, how to diagnose and treat them and about her ongoing research project.
15 april
The lecture is canceled due to illness.
Secure the future of our cities and communities
Landscape architecture has for long been engaged in the renewal of "damaged habitats" such as derelict industrial or mining sites with the purpose to transform them into attractive park landscapes and recreational areas. Landscape architecture's approach of redesigning these environments differs from how urban design and planning usually go about a renewal. For example, the ability to foster dynamic processes, to use the undeveloped as a potential and to activate site-specific knowledge. All very relevant in face of the current radical, but uncertain, societal transition to cope with, for example, climate change. This Värt att veta provides examples of some landscape-inspired capacities that society would benefit from developing to secure the future of our cities and communities.
Caroline Dahl is an architect and urban designer with a Ph.D. in landscape architecture from SLU. Her main research focus (at the Department of Landscape Architecture, Planning and Management) is about transforming urban landscapes from a design-oriented landscape perspective.
11 mars
Car-free experiments in urban environments
A sustainable transformation needs to reduce car dependency. Worldwide there is a growing awareness about the positive effects of car-free urban settings on e.g. reduction of air pollution, freeing space for e.g. green structures and spaces for play, improved opportunities for a more active life and mobility, greater opportunities for social integration in attractive neighborhood development. The project mainly aims to develop new knowledge about how car-free urban areas (here so-called summer streets) have been developed and implemented and how this is experienced by users in terms of environmental opportunities and obstacles to human mobility.
Nina Vogel is a researcher at the Department of Landscape Architecture, Planning and Management. Nina Vogel is acting Programme Director of research platform SLU Urban Futures (www.slu.se/urbanfutures). Current research deals with car-free urban development, sustainable urban transformation, alternative governance arrangements, temporary uses, urban labs and transdisciplinary co-production cross disciplines, sectors and scales.
February 11
One Health for Animals and Humans - is One Welfare the next step?
The concept of One Health illustrates that animals and humans can suffer from the same health problems linked to infection or lifestyle, the environment is also important. Now we move on to One Welfare, about how animals and humans affect each other's well-being.
Lotta Berg is a veterinarian and professor of pet environment and health at SLU in Skara. Her research deals mainly with animal welfare and animal welfare for farm animals, including preventive animal health care, behavior and care aspects. Among other things, she works with questions about how animal welfare legislation works, about animal welfare at slaughter, crisis preparedness issues, and about the relationship between domestic animals and wild animals, and then often with a One Health angle.
Lectures autumn 2020
Previous lectures autumn 2020
26 November
Food waste: insights from science and dumpster diving
By combining knowledge from scientific studies and experiences from dumpster diving, the researcher Ingrid Strid will share some facts and thoughts of the ongoing food waste problem and its possible solutions in a Swedish context.
Ingrid Strid is a researcher at Department of Energy and Technology at Ultuna.
The lecture is given in English.
October 15
SLU and Sweden's new research vessel Svea - one year in the service of marine research
Mattias Sköld at the Department of Aquatic Resources will talk about the design and construction of Svea, which took six years since SLU was commissioned by the government. But above all, about our fantastic ship and about the research and environmental monitoring that Svea has carried out since it was put into operation in October of last year.
The lecture is given in Swedish.
Lectures autumn 2019
Programme autumn 2019
3 October
Sara Hallin
Professor at the Department of Forest Mycology and Plant Pathology
How to minimize environmental impact in crop production
Microbes are key players when nitrogen compounds are transformed – can they be managed to minimize environmental impact and support crop production?
17 October
Anke Fischer, Erica von Essen and Kaisa Raitio
Researchers at the Department of Urban and Rural Development
How environmental communication can help in times of sustainability crises
Ever wondered why so much impactful communication today happens through social media? Or why until recently, many people in Europe did not think that climate change was such a big issue? Our talk showcases research that answers these questions.
See lecture here (in English)
7 November
Sebastian Sundberg, The Swedish Species Information Centre
Hur mycket är ett träd värd? Om våra träds nyckelroll som värdar för biologisk mångfald. Firs, pine trees and oak trees each hosts about 1,000 species of fungi, larvae, mosses and invertebrates. More than a fifth of all Sweden's terrestrial species depend on one single host plant. Come and listen to why trees make up such important but fragile structures in the web of life.
Link to lecture: https://play.slu.se/qc/?play=50270
14 November
Anke Herrmann
Researcher at the Department of Soil and Environment
Nitrogen and agriculture through the ages – a brief history. Nitrogen is an important macronutrient for plant growth. In agricultural systems, careful management is crucial for plant production and environmental reasons. Yet, optimizing available nitrogen for plant growth is challenging due to the complexity of the nitrogen cycle in soils. This Worth Knowing Talk will provide an overview of the discovery of various processes within the nitrogen cycle as well as historical developments of nutrient management systems in agricultural systems.
Anke Herrmann is an Associate Professor in Soil Science, and her main research focus is on decomposition of soil organic matter in various soil ecosystems. Specifically, she elucidates nutrient cycling in relation to climate change by tackling resource use efficiency of carbon and nitrogen as well as root growth within the physical, structural microbial soil habitat.
28 November
Kevin Bishop
Professor at the Department of Aquatic Sciences and Assessment
The water cycle diagram: an icon dangerously out of date for the Anthropocene. Water cycle diagrams are the icons of hydrological sciences, but they provide a misleading picture. Leaving humans out contributes to a basic lack of awareness of how we relate to water, and a false sense of security about future availability of the essential resource.
Kevin Bishop is a Professor at the Department of Aquatic Sciences and Assessment, and SLU's Pro Vice Chancellor with responsibility for Environmental Monitoring and Assessment. This part of SLUs mission provides the scientific basis for a more sustainable future. Societies must find better ways to use natural resources while protecting other ecosystem services like biodiversity and water quality. SLUs is an international leader in the producing this knowledge and putting it to work.
5 december – canceled
One Health för djur och människor – är One Welfare nästa steg?
---
Contact