Special collections at the SLU Library
Last changed: 22 June 2023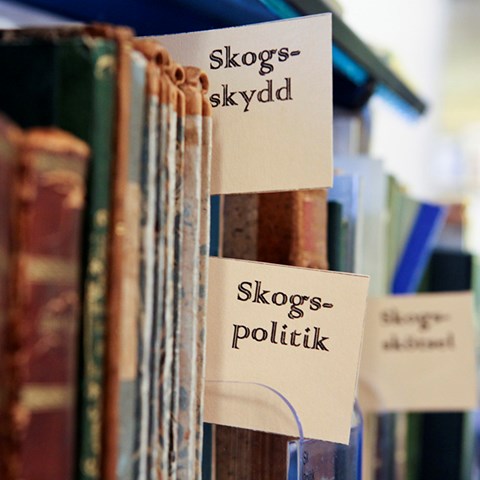 The SLU Library has a number of collections of rare, historically valuable or in other ways special material. Most of this material is not for loan and can only be studied on site at the library.
Alnarp
The Wooden Library
A unique collection consisting of 217 "wooden books" from the early 19th century.
The Örtengren collection
A large collection of books on pomology dating from the 16th to the 20th century, donated by the business man Sven Helmer Örtengren.
Nursery catalogues
A collection of nursery catalogues from various countries, mainly from the late 19th century and the early 20th century.
Skara
The Hernquist collection
A unique collection of books, many dating back to the late 18th century, named after Peter Hernquist, founder of Sweden's first veterinary school in Skara, and about 30 000 pages of handwritten manuscripts.
Umeå
Forestry photo archive
A photo archive comprising approximately 17 000 photos taken between 1900 and 1963 of which about 5 000 has been digitized.
The historical collection in Umeå
Literature from the 17th to the 19th century, mainly in the field of forestry and hunting, as well as botany and zoology.
Uppsala
The historical collection in Uppsala
Books from the Veterinary University College library until 1830 and from the Agricultural University College library until 1800.
The SOF library
A collection of ornithological literature from the library of BirdLife Sverige.
---
Contact