SLU's knowledge bank
Prevalence of heterophilic antibodies in horse serum, and elimination of interference using chicken IgY
Last changed: 08 July 2021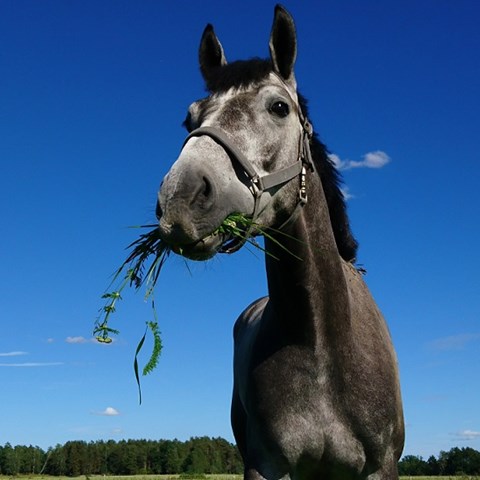 Heterophilic antibodies in serum and plasma can interfere with mammalian antibodies in immunoassays and result in false test results, usually false positive. Although studies screening for heterophilic antibodies as well as elimination studies have been conducted in dogs and cats, knowledge of the presence of heterophilic antibodies in other species in veterinary medicine is limited. In this study, a 2-site sandwich-type interference assay that detects anti-mouse antibodies was used to detect heterophilic antibodies in a population of horses treated in an animal hospital.
A total of 194 serum samples from 127 individual horses were analyzed. There were 11/127 (8.7%) interference-positive horses, and these were analyzed in an assay exchanging the capture mouse IgG with chicken IgY. The positive samples were negative in the chicken IgY assay, indicating elimination of a possible interference, with the chicken-based assay. Four interference-positive samples were from geldings, and anti-Müllerian hormone (AMH) was analyzed from these samples. AMH concentrations were negative in these samples as expected in geldings, indicating that the heterophilic antibodies did not cause interference in the AMH assay.
The present study shows that there are heterophilic antibodies in horse serum samples like in samples from humans, dogs, and cats. The use of chicken-based reagents, such as chicken IgY, which do not cross-react with mammalian IgG, eliminates the effects of interfering antibodies in the samples. Equine heterophilic antibodies do not necessarily cause interference in commercial immunoassays.
Link to publication
https://doi.org/10.1186/s13028-021-00575-1
Reference
Dong B, Bergman D, Holst BS. Prevalence of heterophilic antibodies in serum samples from horses in an equine hospital, and elimination of interference using chicken IgY. Acta Vet Scand (2021), 63(1):10.
---
Contact
Bodil Ström Holst
Senior Lecturer at the Department of Clinical Sciences; Division of Reproduction

Telephone: 018-671608
E-mail: bodil.strom-holst@slu.se