The mission of the platforms
Last changed: 06 July 2023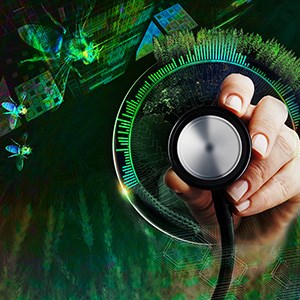 SLU has four interdisciplinary platforms that integrate different scientific fields. They also improve the collaboration between researchers and society. Their activities are characterized by an interdisciplinary and multidisciplinary approach, which is carried out across all faculties and in collaboration with relevant social actors. The ability to work with complex, scientific issues with such an approach is something that makes the platforms unique.
The names of the platforms and respective fields of science are presented in more detail below.
An interface between academy and society
The future platform strategy is characterised by inter- and multidisciplinary methods focused on the future.
The work spans across faculties and takes place in collaboration with relevant stakeholders in society. Using this approach to tackle complex scientific issues is something that makes the Future Platforms unique.
The platforms are intended to be a living, interactive interface between academy and society, and aims to:
identify needs for knowledge, through projects based on synthesis and analysis, and generate scientifically based decision support for issues relevant to society;
identify and develop, through collaboration with relevant actors in society, new questions for research to support solutions to future challenges;
develop interdisciplinary working methods by coordinating cooperation across disciplinary boundaries.
All four platforms offer seed funding and co-financing of collaborative projects, as well as arranging meeting places in various formats.
About the platforms
SLU Urban Futures
SLU Urban Futures inspires and supports SLU's researchers, teachers and students in developing transdisciplinary research, education and collaboration in sustainable urban development. The platform has three regional hubs, in Alnarp, Ultuna and Umeå, with the aim to strengthen SLU's role as a relevant partner for academic and non-academic actors. The work of the platform links to local initiatives for urban transformation as well as international discourse of planetary urbanisation.
Read more about SLU Urban Futures.
SLU Future Forests
SLU Future Forests is a platform for interdisciplinary forest research and research communication. The platform is a collaboration between SLU, Umeå University and Skogforsk. SLU Future Forests encompasses the importance of forests and forestry for the development of a biobased economy as well as climate adaptation and the various ecosystem services that forests offer. Decision-making processes, where different groups' perspectives on forestry are taken into account, are also included in the activities.
Read more about SLU Future Forests.
SLU Future One Health
Our starting point is the One Health perspective, the interaction between animal, human and ecosystem health. This includes complex health challenges like the spread of diseases and antimicrobial resistance, how human health can benefit from exposure to animals, green environments and nature as well as common lifestyle diseases in animals and humans. Our primary target group is researchers at SLU. Other groups of interest are politicians, research financiers, other universities and other interested parties.
Read more about SLU Future One Health.
SLU Future Food
SLU Future Food is a platform for research and collaboration to develop knowledge, solutions and innovations aimed at ensuring that the entire food system is characterized by economic, ecological and social sustainability to overcome tomorrow's challenges. The research addresses both plants and animals, from the smallest molecules to global systems.
Read more about SLU Future Food.
---
Contact
---
Links