Nordic network for Communicating Animal Welfare (NordCAW)
Last changed: 21 September 2023
The purpose of NordCAW is to facilitate communication regarding animal welfare between science, authorities, primary producers and a wider public in the Nordic countries.
NordCAW was started by the Animal Welfare Centers in Denmark, Finland, Norway and Sweden. Since then it has expanded to include also other Nordic countries such as Iceland, Faroe Islands and the Baltic states Estonia, Latvia and Lithuania. Its mission is to communicate Nordic Animal Welfare within the Nordic and European hemisphere.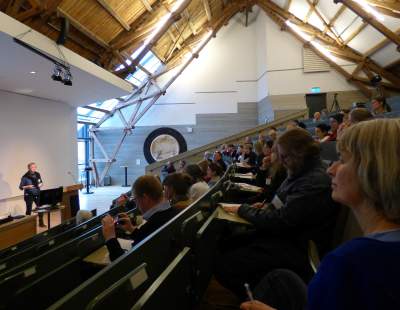 Picture from NordCAW Seminar/Workshop 24 November 2015. Photo: Lotta Berg
NordCAW seminar 2023
Welcome to the NordCAW seminar on Horse Welfare in relation to the use of horses in equestrian sport. The seminar will take place in Uppsala, Campus Ultuna on November 29th 2023.
For more information and registration, click here.
NordCAW seminar 2022
The 2022 NordCAW seminar was held in Tarttu on Nov 30- Dec 1 and the title for the seminar was "Animal Welfare Conflicts, Aims and Challenges with Sustainability and Diversity".
NordCAW seminar 2021
On September 30, 2021 NordCAW hosted a seminar with the title "Improvements of dairy cattle welfare - development of further sustainable agriculture practices" .
It was a digital seminar, organised from Riga.
NordCAW Seminar 2018
Challenges and actions taken to improve fish welfare in Nordic aquaculture
NordCAW hosted a seminar on Fish farming and Animal Welfare in Oslo 15 November 2018.
Program, speakers and abstracts.
NordCAW Seminar 2017
Consumer-driven animal welfare and animal based welfare indicators
Danish Centre for Animal Welfare (DCAW) and NordCAW hosted a two day seminar on Animal Welfare in Copenhagen on October 3 and 4 2017.
The first day focused on how animal welfare is perceived by farmers and consumers as well as on how specific animal welfare schemes and initiatives may give added value and increased welfare to animals. The second say focused on application of animal-based welfare indicators in animal welfare assessment.
Recordings from the conference.
(You need to have Silverlight downloaded on your computer.)
NordCAW Seminar 2016
How European Union Reference Centres for Animal Welfare could be organized.
NordCAW hosted a seminar the 1th of December 2016 with the theme "How European Union Reference Centres for Animal Welfare could be organized".
NordCAW Seminar 2015
Communicating animal welfare
NordCAW hosted a seminar on different aspects on communication in animal welfare, 24 November 2015, in Uppsala.
---
Contact
---
Links