Meet a lecturer
Last changed: 15 November 2022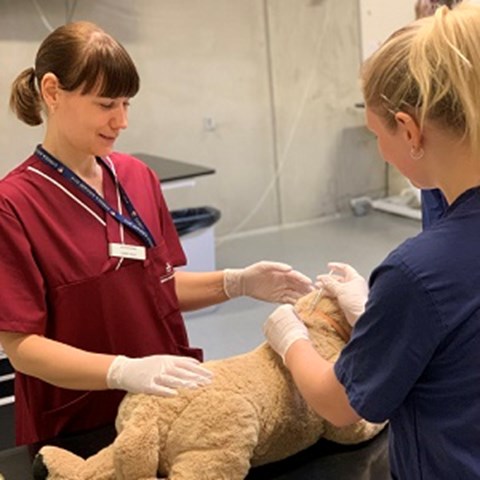 Learn more about what an SLU lecturer does. Meet Lecturer Sanna Gille who works at the Department of Clinical Sciences in Uppsala.
What is your title and what brought you to SLU?
I work as a lecturer at the Department of Clinical Sciences at SLU Uppsala, almost exclusively in the Veterinary Nursing programme.
For many periods in my life, I have been interested in teaching, and this post allows me to teach the subjects I'm most passionate about. For me, it was natural to apply for this job.
As a lecturer, what do you do? What are your primary duties?
Most of my time is spent on preparing lessons and actually teaching, both theoretical and practical teaching. However, there is also some administration such as designing exams, grading criteria, etc. Currently, I am also the deputy director of studies at the department, which means I also work with general teaching issues.
What do you like about your job?
I love to teach – thinking about how to improve an exercise for next year, changing a lecture to another form of teaching... Such issues are very exciting, and I have many opportunities to affect our courses and programmes.
It's wonderful to follow our students through their years at SLU, and they give so much back. The students are the biggest reason I love working at SLU.
What does the SLU slogan "Science and education for sustainable life" mean to you?
It means that those who work at SLU constantly strive to ensure that students are given good knowledge on how we as individuals and groups contribute to a sustainable world, environmentally, socially and financially. It's important that we work together to do what we can to make a sustainable world for us and future generations.
How would you describe what it's like to work at SLU to those who don't know about us?
This is a workplace that allows you to evolve since leading research and knowledge about your subject is gathered in one place. You can always discuss small and large issues with someone, which is also makes you develop – and it's fun!
---
Contact