Meet a systems administrator
Last changed: 19 June 2023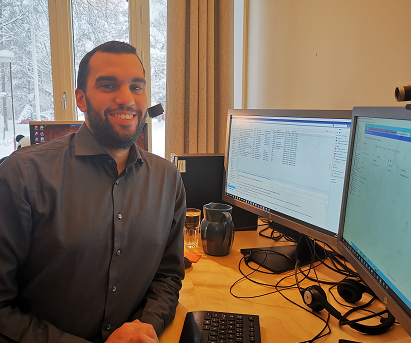 Learn more about what an SLU systems administrator does. Meet Mohamed Amin Kaafar who works at the Division of IT in Umeå.
What is your title and what brought you to SLU?
I started working as a systems administrator through a recruitment company in the spring of 2015. The idea was that I would cover for an employee on parental leave for a few months, but I got lucky and was later employed by SLU.
As a systems administrator, what do you do? What are your primary duties?
As systems administrator, I am responsible for the administration and operation of some of the systems in the Division of IT. I'm currently working mostly with email, virtualisation and storage. Additionally, I respond to support matters submitted by our users, and I try to solve their problems. I studied information systems at Umeå University, but after my studies were completed, I chose a more technical specialisation, which I'm happy about today.
What do you like about your job?
I feel like I'm constantly achieving things and that my knowledge continually develops. I also feel that both my manager and colleagues appreciate me. Going to work in the morning is like going to a second family. I certainly don't wake up full of dread every morning!
What does the SLU slogan "Science and education for sustainable life" mean to you?
For me, the slogan means research and learning for a better future planet.
How would you describe what it's like to work at SLU to those who don't know about us?
It's open and flexible. It's easy to get in touch with other SLU employees, and I feel secure with my employer. We have a good work environment that is getting even better. I think that it's exciting that so much is happening throughout the organisation. My days are never the same – new things happen all the time and I am always prepared for new challenges. I also like to meet people from all over the world here at SLU.
---
Contact