Worth knowing Ultuna –Spring 2021
Last changed: 28 June 2021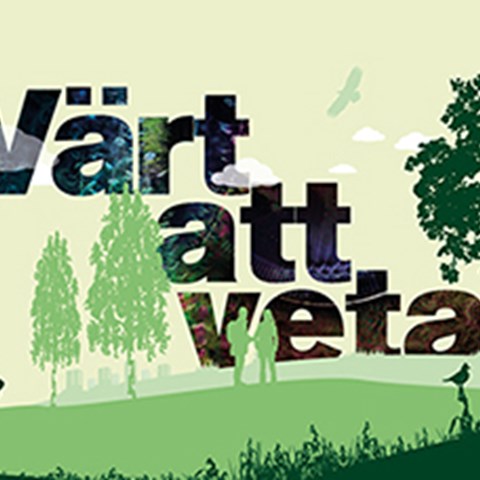 The events consist of short lectures about SLU research. The university's research dares to question established knowledge and aims to solve real problems for a living world. Everyone is welcome.
What happens now?
The last Worth Knowing Lecture of the semester was held on 6 May. Now we will plan for the autumn program. It will be published on this page as usual.
Zoom registration
New regulations say that you must register to be able to see the lecture. It's quick and easy. Do this:
Click on the Zoom link below for the lecture you want to see.
Fill in name and e-mail address.
As soon as you have registered, the password and link to the e-mail address you entered will be sent.
Click on the link "Click Here to Join" and a web page opens.
Click on "Launch Meeting" and enter the six-digit code in the email in the dialog that opened.
You can register whenever you want as soon as the link is published. It becomes active about ten minutes before the lecture begins. The link will be published at each lecture a few weeks before it is held.
The language
The lectures are sometimes held in Swedish and sometimes in English. The language is specified in the presentation of each lecture.
The lectures start at 12.15 and last no longer than until 13.00.
There is always time for questions.
Lectures spring 2021
May 6
Malin Nilsson: The Tollar disease – diagnosis, treatment and research
The dog breed Nova Scotia Duck Tolling Retriever succumbs an increased risk for immune mediated disease as well as certain types of cancer. In humans studies have shown that certain immune mediated diseases increase the risk for cancer, as do chronic inflammation. Malin Nilsson and her colleagues are now studying these relationships in a breed with a high incidence of both.
Malin Nilsson will talk about the expression of the diseases, how to diagnose and treat them and about her ongoing research project.
15 april
The lecture is canceled due to illness.
Secure the future of our cities and communities
Landscape architecture has for long been engaged in the renewal of "damaged habitats" such as derelict industrial or mining sites with the purpose to transform them into attractive park landscapes and recreational areas. Landscape architecture's approach of redesigning these environments differs from how urban design and planning usually go about a renewal. For example, the ability to foster dynamic processes, to use the undeveloped as a potential and to activate site-specific knowledge. All very relevant in face of the current radical, but uncertain, societal transition to cope with, for example, climate change. This Värt att veta provides examples of some landscape-inspired capacities that society would benefit from developing to secure the future of our cities and communities.
Caroline Dahl is an architect and urban designer with a Ph.D. in landscape architecture from SLU. Her main research focus (at the Department of Landscape Architecture, Planning and Management) is about transforming urban landscapes from a design-oriented landscape perspective.
11 mars
Car-free experiments in urban environments
A sustainable transformation needs to reduce car dependency. Worldwide there is a growing awareness about the positive effects of car-free urban settings on e.g. reduction of air pollution, freeing space for e.g. green structures and spaces for play, improved opportunities for a more active life and mobility, greater opportunities for social integration in attractive neighborhood development. The project mainly aims to develop new knowledge about how car-free urban areas (here so-called summer streets) have been developed and implemented and how this is experienced by users in terms of environmental opportunities and obstacles to human mobility.
Nina Vogel is a researcher at the Department of Landscape Architecture, Planning and Management. Nina Vogel is acting Programme Director of research platform SLU Urban Futures (www.slu.se/urbanfutures). Current research deals with car-free urban development, sustainable urban transformation, alternative governance arrangements, temporary uses, urban labs and transdisciplinary co-production cross disciplines, sectors and scales.
February 11
One Health for Animals and Humans - is One Welfare the next step?
The concept of One Health illustrates that animals and humans can suffer from the same health problems linked to infection or lifestyle, the environment is also important. Now we move on to One Welfare, about how animals and humans affect each other's well-being.
Lotta Berg is a veterinarian and professor of pet environment and health at SLU in Skara. Her research deals mainly with animal welfare and animal welfare for farm animals, including preventive animal health care, behavior and care aspects. Among other things, she works with questions about how animal welfare legislation works, about animal welfare at slaughter, crisis preparedness issues, and about the relationship between domestic animals and wild animals, and then often with a One Health angle.
Lectures autumn 2020
Previous lectures autumn 2020
26 November
Food waste: insights from science and dumpster diving
By combining knowledge from scientific studies and experiences from dumpster diving, the researcher Ingrid Strid will share some facts and thoughts of the ongoing food waste problem and its possible solutions in a Swedish context.
Ingrid Strid is a researcher at Department of Energy and Technology at Ultuna.
The lecture is given in English.
October 15
SLU and Sweden's new research vessel Svea - one year in the service of marine research
Mattias Sköld at the Department of Aquatic Resources will talk about the design and construction of Svea, which took six years since SLU was commissioned by the government. But above all, about our fantastic ship and about the research and environmental monitoring that Svea has carried out since it was put into operation in October of last year.
The lecture is given in Swedish.
Lectures autumn 2019
Programme autumn 2019
3 October
Sara Hallin
Professor at the Department of Forest Mycology and Plant Pathology
How to minimize environmental impact in crop production
Microbes are key players when nitrogen compounds are transformed – can they be managed to minimize environmental impact and support crop production?
17 October
Anke Fischer, Erica von Essen and Kaisa Raitio
Researchers at the Department of Urban and Rural Development
How environmental communication can help in times of sustainability crises
Ever wondered why so much impactful communication today happens through social media? Or why until recently, many people in Europe did not think that climate change was such a big issue? Our talk showcases research that answers these questions.
See lecture here (in English)
7 November
Sebastian Sundberg, The Swedish Species Information Centre
Hur mycket är ett träd värd? Om våra träds nyckelroll som värdar för biologisk mångfald. Firs, pine trees and oak trees each hosts about 1,000 species of fungi, larvae, mosses and invertebrates. More than a fifth of all Sweden's terrestrial species depend on one single host plant. Come and listen to why trees make up such important but fragile structures in the web of life.
Link to lecture: https://play.slu.se/qc/?play=50270
14 November
Anke Herrmann
Researcher at the Department of Soil and Environment
Nitrogen and agriculture through the ages – a brief history. Nitrogen is an important macronutrient for plant growth. In agricultural systems, careful management is crucial for plant production and environmental reasons. Yet, optimizing available nitrogen for plant growth is challenging due to the complexity of the nitrogen cycle in soils. This Worth Knowing Talk will provide an overview of the discovery of various processes within the nitrogen cycle as well as historical developments of nutrient management systems in agricultural systems.
Anke Herrmann is an Associate Professor in Soil Science, and her main research focus is on decomposition of soil organic matter in various soil ecosystems. Specifically, she elucidates nutrient cycling in relation to climate change by tackling resource use efficiency of carbon and nitrogen as well as root growth within the physical, structural microbial soil habitat.
28 November
Kevin Bishop
Professor at the Department of Aquatic Sciences and Assessment
The water cycle diagram: an icon dangerously out of date for the Anthropocene. Water cycle diagrams are the icons of hydrological sciences, but they provide a misleading picture. Leaving humans out contributes to a basic lack of awareness of how we relate to water, and a false sense of security about future availability of the essential resource.
Kevin Bishop is a Professor at the Department of Aquatic Sciences and Assessment, and SLU's Pro Vice Chancellor with responsibility for Environmental Monitoring and Assessment. This part of SLUs mission provides the scientific basis for a more sustainable future. Societies must find better ways to use natural resources while protecting other ecosystem services like biodiversity and water quality. SLUs is an international leader in the producing this knowledge and putting it to work.
5 december – canceled
One Health för djur och människor – är One Welfare nästa steg?
---
Contact

Worth knowing – Short lectures about SLU research.
Lousia Hatamian, Karin Bennmarker, Sarah Meier,
Mårten Granert-Gärdfeldt
marten.granert@slu.se, 018-67 16 77

Page editor: mw-red@slu.se