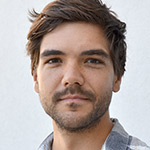 PhD student in landscape architecture as part of the 'Urban Futures' strategic research platform at SLU and the Department of Urban and Rural Development.
Research
In 2018 I started working on the PhD project Governing urban transformations: Cycling in the cities of the future. My research aims to provide novel insights on governance for urban transformations by extending theorisations of sustainability transitions beyond innovation-centred transition management thinking.
Background
I have an academic background in Environmental and Energy Sciences with a specialization in Environmental Management (B.Sc.). During my B.Sc. I started working on questions concerning the promotion of cycling. During my Master´s studies in Environmental Science in Europe (EnvEuro) at the University of Copenhagen and SLU, I continued along a management track and increasingly focused on issues of land use conflicts and planning. I concluded my master studies with a Master´s thesis on the acceptance of coastal wind power in Denmark.
I gained working experience as a student assistant at the environmental consultancy Tauw in the Netherlands and Germany and as University research assistant.
---
Contact
Doctoral Student at the

Department of Urban and Rural Development; Landskapsarkitektur Fysisk planering