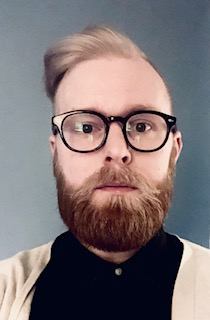 Lecturer and PhD candidate in business administration at the Department of Economics. Erik's main subjects are entrepreneurship, organisation, leadership and sustainable development.
Presentation
Erik works with teaching, research, and pedagogical development.
Teaching
Erik runs the courses Introductory course in business administration and sustainable development (FÖ0481), 7.5 credits; and Leadership and sustainability (FÖ0421), 15 credits. He also teaches on several other courses, and supervises theses.
In addition to teaching, Erik works with pedagogical development and progression at course and programme level. Since 2018, he has functioned as one of two chairs of MOTT, a teaching track in marketing and organisation which in 2021 won SLU's educational award.
Research
Erik is interested in how entrepreneurial practices interact with rural context, and how rural context interacts with entrepreneurial practices.
Erik is a member of EIS, a group that works with research on Entrepreneurship and innovation for sustainable development.
Cooperation
Erik works with scientific peer review for different academic journals and publishers that focus on entrepreneurship.
Since 2022, he has been on the board (LAG) of Upplandsbygd lokalt ledd utveckling, a Leader initiative in the Uppland region. The principles for this programme are that rural sustainable development should be local, innovative and long-term; and take place in collaboration between relevant parties. Within the frame of this commitment, Erik works with review of proposed projects, granting of project funds, and follow-up of completed projects, inter alia.
Selected publications
Melin, E. and Gaddefors, J., 2023. Agency in entrepreneurship: preparing entrepreneurship theory for another view of context. International Journal of Entrepreneurial Behavior & Research, 29(11), pp. 184-205. DOI: 10.1108/IJEBR-10-2022-0916
Melin, E., Gaddefors, J. and Ferguson, R., 2022. The moral of the story: 'populism' and 'activism' in entrepreneurship. Entrepreneurship & Regional Development, 34(9-10), pp. 1-23. DOI: 10.1080/08985626.2022.2083690
---
Contact
Doctoral Student, Lecturer at the

Department of Economics; Entrepreneurship and innovation for sustainability