Nuclear Magnetic Resonance (NMR) and Mass Spectroscopy (MS) infrastructure
Last changed: 09 September 2020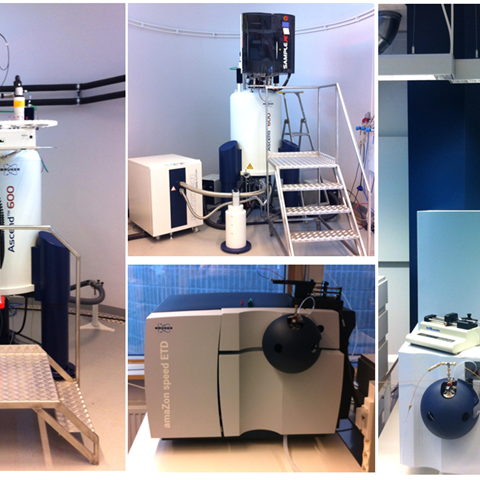 Structural analysis and metabolomics studies by NMR spectroscopy and mass spectrometry.
The platform, with two 600 MHz NMR spectrometers and three mass spectrometers, is used for research in the field of bio-organic chemistry, natural product chemistry and metabolomics. Structural analysis of different types of biomolecules such as for example polysaccharides, peptides or secondary metabolites. Metabolomics studies involve analysis of biofluids or extracts from different origins.
The platform is used by researchers from SLU, other Swedish and international universities as well as in collaboration with industries. The platform offers different types of service and education.
The NMR-platform consists of:
- A Bruker Avance III 600 MHz equipped with a 5-mm 1H/13C/15N/31P Cryoprobe and with a cooled SampleJet sample changer for 5x96 samples and 30 spinner positions.
- A Bruker Avance III 600 MHz equipped with a 4-mm 1H/13C high-resolution magic angle spinning (HR-MAS) probe, a 5-mm BB/19F-1H Smartprobe and a sample changer accommodating 120 spinners
The MS-platform consists of:
- A Bruker MaXis Impact ESI-QTOFMS
- A Bruker AmaZon speed ETD ESI-ITMS
- A Bruker Reflex III MALDI-TOFMS
Contact
Peter Agback (NMR)
Jan Eriksson (MS)
---
Contact