Consultancy
Last changed: 29 August 2023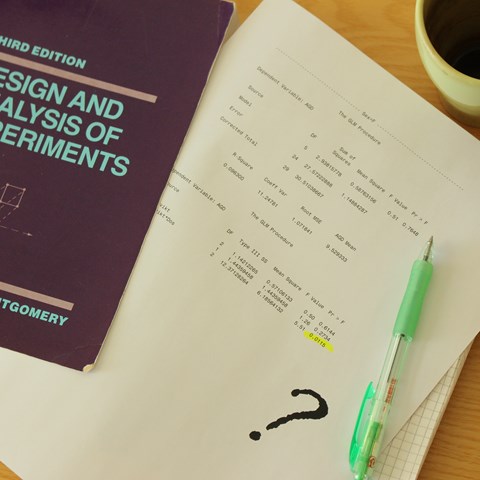 Questions on statistical issues? Hard-to-understand comments on statistics from a reviewer? You have come to the right place! Statistics@SLU provides all employees at SLU free statistical consultation, regardless of faculty, to improve the statistical quality of works produced at the university.
By coordination of statistical consultations at SLU you will be able to come into contact with the statistician that is best suited for the problem at hand. If you had contact with a statistician at SLU before you can of course continue this contact. To get in contact with us see the list with active consultants below or contact the center directly at statistics@slu.se

Statistics@SLU now also offers drop-in consultation for help with statistical software and smaller statistical problems, the times are specified on the statistics@slu frontpage.
Alnarp
Jan-Eric Englund, PhD, senior lecturer
Area of experise: Design of experiments, linear models, general statistical questions.
Jan-Eric.Englund@slu.se
Adam Flöhr, research engineer
Area of expertise: Practical applications in R, general statistical questions.
adam.flohr@slu.se
Umeå
Hilda Edlund, B. A., adjunct lecturer
Area of expertise: General statistical questions, statistical advice for degree projects.
hilda.edlund@slu.se
Magnus Ekström, PhD, guest professor
Area of expertise: Statistical inference, resampling methods, R, general statistical questions.
Magnus.Ekstrom@slu.se
Anton Grafström, PhD, senior lecturer
Area of expertise: Sampling, design of monitoring programs and design-based statistical inference.
Anton.Grafstrom@slu.se
Uppsala
Reza Belaghi PhD, Researcher
Area of expertise: Machine learning (predictive modeling and unsupervised learning), Survival (Reliability) Analysis, Time series analysis, and Regression analysis.
Reza.Belaghi@slu.se
Claudia von Brömssen, PhD, senior lecturer
Area of expertise: Environmetrics, trendanalysis and meteorological normalisation, generalized linear/additive models, SAS and R.
Claudia.von.Bromssen@slu.se
Johannes Forkman, PhD, senior lecturer Part of the organisation Fältforsk, Dept. of Crop Production Ecology.
Area of expertise: Only consultancy regarding the design and analysis of agricultural experiments.
Johannes.Forkman@slu.se
Annica de Groote, PhD, researcher
​Area of expertise: Survey methodology. Sampling and estimation. Sources of error in surveys.
Annica.Isaksson.de.Groote@slu.se
Ulf Olsson, PhD, emeritus professor
Area of expertise: Design and analysis of experiments, SAS, generalised linear models.
Ulf.Olsson@slu.se
Jesper Rydén, PhD, senior lecturer
Area of expertise: Stochastic processes, extreme-value analysis, generalised linear models.
Jesper.Ryden@slu.se


The Centre for statistics offers statistical advice to employees at SLU free of charge.
The amount of free statistical advice is limited to 20 hours per client and year.
Guidelines for co-authorship
Our basic rule is that if the statistician contributes in any substantial way to a publication, with advice, planning, or analysis, co-authorship should be discussed. The statistician will in that case contribute by writing a description of methods used and will thereby be responsible for this part of the contents.
The interpretation is a matter of judgement, but a first meeting with us never obligates you to share the authorship.
---
Contact