About the conference
Last changed: 07 December 2016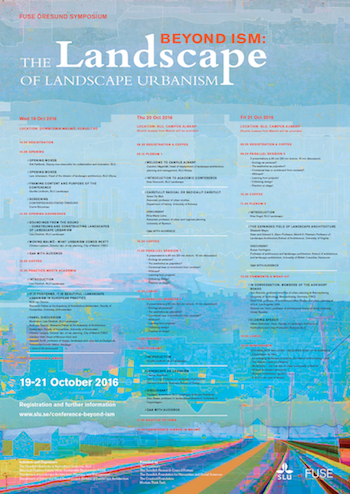 The aim of this conference was to reposition the relationships between city and landscape, as reflected in the practice and academia of various disciplines. To this end, we seek to revisit the academic discourse concerning Landscape Urbanism, and to engage with subsequent 'isms' as well as looking beyond, in order to enrich and broaden the urban discourse.
This international cross-disciplinary conference, organised by the Swedish University of Agricultural Sciences (SLU), aimed to contribute new and alternative formulations of the relationship between landscape and urbanism by reassessing Landscape Urbanism. The time is ripe to dig deeper into the concerns motivating the cascade of 'isms' that have proliferated over the last decade: landscape urbanism, ecological urbanism, infrastructural urbanism, process urbanism, biourbanism, etc. To advance a theoretically sound and practically relevant discourse – rather than launch yet another superficially modified urbanism – we invited participants to take stock of Landscape Urbanism and its closely related theories to identify their strengths, weaknesses and potentials.
The conference brought together advocates and critics of Landscape Urbanism, as well as scholars whose research complements its ongoing discourse. Participants came from around the world; academics and reflective practitioners from disciplines such as landscape architecture, urban and landscape planning and design, architecture, cultural geography, cultural studies, as well as subject areas in the arts and humanities.
Hosted by a landscape architectural institution the conference discussed Landscape Urbanism from a landscape perspective, re-engaging landscape as a "lens" to understand and develop its theory and practice. In an attempt to tackle the complex ecological challenges that our contemporary built environments face under conditions of global change, some strands of Landscape Urbanism have tended to overemphasize scientific and technical solutions, neglecting aesthetic, cultural, social and political dimensions. The conference aimed to address that oversight, to identify reductionist tendencies and to understand the motives behind them, seeking to contribute to alternative concepts.
---
Contact