ImprovAFish - Improving aquaculture sustainability by modulating the feed-microbiome-host axis in fish
Last changed: 03 July 2023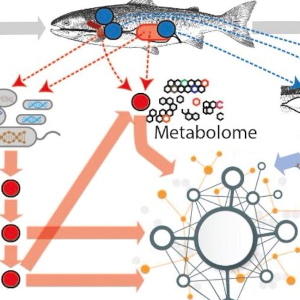 The type of feed given to farmed fish affects their gut microbiota, and the gut microbiota affects the welfare of the fish. The aim of ImprovAFish is to increase the sustainability of aquaculture, by examining the interactions between feed, gut microbes and fish phenotype.
In commercial-scale trials, Atlantic salmons (Salmo salar) will be fed with different feed additives, including a promising functional ingredient (beta-mannan) that is known to promote beneficial microbiota in livestock. Changes in structure and functional properties of gut microbiota will be determined in association with differences in diet. Additionally, production of microbial metabolites triggered by feed additives will be linked to uptake and metabolism of nutrients in the gut and liver of the fish.
Recordings of key performance indices across different life stages will ultimately help to identify interactions between feed components and microbiome functions that are exploitable to improve fish phenotype.

Coordination and participants
The project is coordinated by Norwegian University of Life Sciences NMBU in collaboration with UCPH (Denmark), SLU (Sweden), AQUA GEN, Cargil, Oslo Met (Norway) and NUIG (Irleand).
Dr Bettina Muller
Ana Neves
Facts:
Funding: ERA-NET BlueBio Cofund and Formas.
Funding period: 2020-2024.
---
Contact