Tammsalen, Ecology Centre, Uppsala and online
Current crop science research at the Department of Agricultural Research for Northern Sweden
seminars, workshops |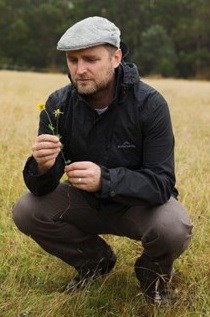 On Thursday, 19 May at 3:30 pm David Parsons from the Department of Agricultural Research for Northern Sweden in Umeå is going to speak about "Current crop science research at the Department for Agricultural Research for Northern Sweden".
View David´s talk here, on Youtube
David grew up in Tasmania, Australia, and completed an undergraduate agricultural science degree there. Then he worked as an agronomist for several years and completed his Master's degree and PhD at Cornell University with the research focused on modelling the biophysical and economic impacts of crop-livestock shifting cultivations systems in Yucatan, Mexico. Then he worked for the University of Tasmania, conducting research in the areas of farming systems, smallholder crop-livestock systems, whole farm modelling, crop modelling, forage agronomy, and climate change adaptation. In particular, he led research projects in Central Vietnam, developing profitable and sustainable beef cattle production. In April 2016 he joined SLU, and is now focusing on developing research projects that can lead to positive results for Swedish agriculture.
David's research is focused on systems: understanding how different elements of the system interact (e.g. plants, soils, livestock, people), and how we can best manage them to achieve desirable outcomes. As a result, his research topics are diverse, interdisciplinary, and include various types of crops in both temperate and tropical environments.
He is interested in the trade-offs between biological, social, economic, and human components of agricultural systems, and how they interact to contribute to sustainability. He aims to engage in applied research, which is framed from the perspective of the end-user and co-developed using participatory processes.
His key research interests include
Forage and crop agronomy
Crop-livestock interactions
Systems modelling
Biodiversity of forage legume species
Remote sensing of forage crops
Furthermore, he is the PhD supervisor of Elsa Lagerquist and Brooke Micke.
Facts
Time: 2022-05-19 15:30 - 17:00
City: Uppsala and online
Location: Tammsalen, Ecology Centre
Organiser: Department of Crop Production Ecology

---
Contact