Report launch: Navigating the Food Crises – Insights from AgriFoSe2030 Projects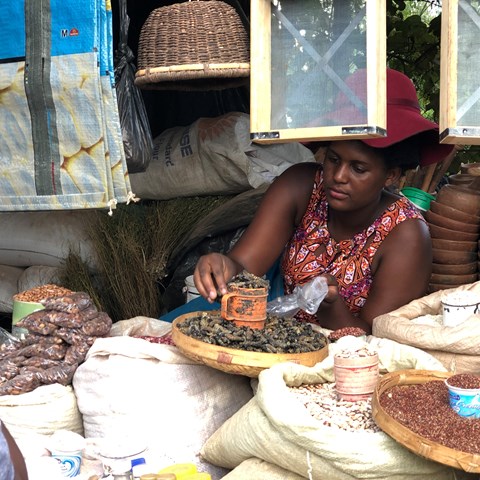 Welcome to join this report launch: Navigating the Food Crises – Insights from AgriFoSe2030 Projects. The event will be held online 14 April.
AgriFoSe2030 is a collaborative, multi-stakeholder programme that synthesises and translates existing science into policy and practice, develops capacity to achieve this to support sustainable agriculture and food security in Africa and Asia. It aims to support a transformation of smallholder farming systems in sub-Saharan Africa (SSA) and in South and Southeast (SE) Asia, to enable them to tackle food insecurity and improve local livelihoods.

At this event, the AgriFoSe2030 programme will launch a perspective report showcasing how select projects are responding or adapting in times of crises and how their intervention is a sustainable solution to achieving resilient agri-food systems and ultimately, food security in their respective countries, more specifically, areas of the project.
Food insecurity remains a major challenge in many parts of the world despite economic growth and significant reductions in poverty rates in the past two decades. The Food and Agriculture Organisation (FAO) estimates that around 2.3 billion people are food insecure, and 827 million people are affected by hunger and malnutrition. These people are often smallholder farmers and found overwhelmingly in low-income countries in South and Southeast Asia and sub-Saharan Africa (SSA).
Smallholder Agriculture in Times of Crises
Since 2020, smallholder farmers have faced a number of domestic and global shocks including droughts, severe rainfall, value chain disruptions, economic shocks, crop and animal diseases, conflicts and COVID-19 related restrictions that have negative impacts on food systems. The perspectives report gathers varied contextual experiences from AgriFoSe2030 projects in sub-Saharan Africa and Southeast Asia and synthesises key lessons and approaches adopted by smallholder farmers in times of crises. The report contributes to making agri-food systems more productive, sustainable, and resilient to ensure nutritious, safe, and affordable diets for all.
Read the report AgriFoSe Perspectives Report- April 2023
Agenda
10:00 – 10:05 Welcome and introduction of participants - Ng'endo Machua, SEI
10:05 – 10:10 Introduction of the AgriFoSe2030 programme and the perspective report – Sofia Boqvist, Programme Director AgriFoSe2030
10:10 – 10:20 Opening remarks – Gunnar Kohlin, AgriFoSe2030 advisory board member
10:20 – 10:40 Panel Discussion: Perspectives on navigating the food crises in Africa
Panel speakers:
Frank Mugagga – Project leader, Uganda
Judith Nagasha – Project leader, Uganda
Jeninah Kirungi – Project leader, Uganda
David Jakinda – Project leader, Kenya
Samuel Omondi – Project leader, Kenya
Stephen Muchiri – AgriFoSe advisory board member, Kenya
10:40 – 11:00 Panel Discussion: Perspectives on navigating the food crises in East and Southeast Asia
Panel Speakers:
Flordeliz Dacuyan – Project leader, Philippines, with input from Chou Phanith, Cambodia and Le Thi Hoa Sen, Vietnam
Rachmat Mulia – Project leader, Vietnam
Hoang Huong Giang – AgriFoSe2030 advisory board member, Vietnam
Irish Baguilat – AgriFoSe2030 advisory board member, Philippines
11:00 – 11:20 Q&A Session
11:20 – 11:30 Closing Remarks – Mats Åberg, Senior Policy Specialist, Sida
11:30 - 12:00 Fika/Lunch and networking
Moderators:
Ivar Virgin, Senior Research Fellow, Stockholm Environment Institute
Ng'endo Machua – Communications Officer, Stockholm Environment Institute
Register here to join the event virtually
Read the report AgriFoSe Perspectives Report- April 2023
Facts
Time: 2023-04-14 10:00
City: Online

---
Contact

Ng'endo Machua-Muniu
Acting Communications Lead, C&E team
Stockholm Environment Institute
Telephone: +46 (0)70-316 80 30
E-mail: ngendo.machua@sei.org
Spara
Spara
Spara
Spara
Spara