CV page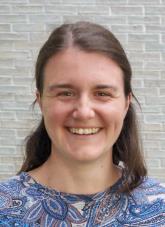 My research in the group of structural biology at the Department of Molecular Sciences is focused on NMR spectroscopic studies of lytic polysaccharide monooxygenases (LPMOs) and their interaction with glycan substrates.
Presentation
I studied Biochemistry (Bachelor) at the Technical University of Munich (Germany) and Chemical Biology (Master) at the Friedrich-Schiller-University Jena (Germany). During my Master Thesis I worked at the Max-Planck-Institute for Chemical Ecology (Jena) on key enzymes of the isoprenoid biosynthesis pathway.
I am currently working as a PhD candidate at SLU in Uppsala under the supervision of Gustav Nestor, Mats Sandgren and Jerry Ståhlberg (structural biology group).
Please visit my LinkedIn page for more information about my educational background.
Research
The demand to reduce the use of fossil resources is high, since they are limited and linked to contribute to global warming. Plant biomass is rich in carbohydrates and can be converted to an array of bioproducts. However, efficient enzymatic conversion of biomass yielding biofuels and biomaterials is still a major challenge. In the industrially applied enzyme cocktails LPMOs are promising candidates regarding their efficiency. However, enzyme-substrate binding and the catalytic mechanism of LPMOs are still not fully understood. In my PhD project I am using NMR spectroscopy with the aim to reveal atomic resolution of LPMOs and their interactions with substrates in solution.
Supervision
Nov 2022 – Feb 2023 (co-supervision)
Tuva Vredin - Master Thesis "Interaction with viral structures and antiviral effect of cyanobacterial lectins"
Selected publications
Krause, T., Wiesinger, P., González-Cabanelas, D., Lackus, N., Köllner, T. G., Klüpfel, T., ... & Schmidt, A. (2023). HDR, the last enzyme in the MEP pathway, differently regulates isoprenoid biosynthesis in two woody plants. Plant Physiology, 192(2), 767-788. https://doi.org/10.1093/plphys/kiad110
Links
---
Contact
Doctoral Student at the

Department of Molecular Sciences; Strukturbiologi
Postal address:
Institutionen för molekylära vetenskaper