Structural Molecular Biology
Last changed: 22 November 2023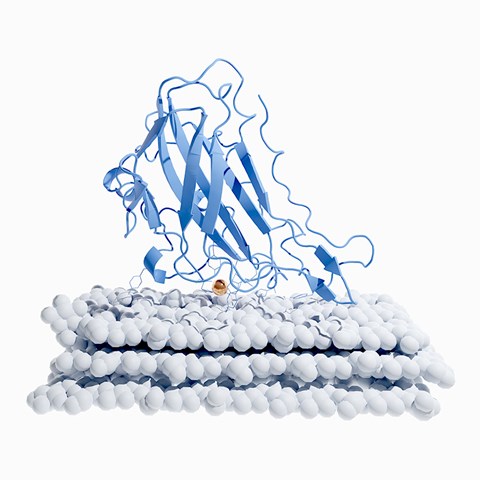 The teams led by Mats Sandgren, Jerry Ståhlberg, Gustav Nestor and Sabine Samples study molecular structure, function and biotechnical applications of biological macromolecules (proteins, carbohydrates, lipids), using X-ray crystallography, Cryo-EM, NMR spectroscopy, supercritical CO2 extraction, FTIR spectroscopy and other techniques.

About Us
Mats Sandgren and Jerry Ståhlberg have >30 years track record of publications in high-impact journals, including JACS, PNAS, JMB and JBC, on structure-function of key enzymes from fungi and bacteria that degrade cellulose and other polysaccharides. The results have paved the way for improved enzymes and industrial processes through enzyme engineering and genome mining.
Gustav Nestor's research is focused on NMR method development and NMR studies on carbohydrates, carbohydrate-binding proteins and carbohydrate-active enzymes. He is involved in several collaborative projects using NMR spectroscopy on biomolecules.
Sabine Sampels is expert on lipids, oxidation and antioxidants, with main focus on the quality of fish, meat and products thereof through the whole food chain. Sustainable production of food with high nutritional value is an overarching research goal.
Our groups are strategically located at SLU Biocenter in Uppsala, a modern research center covering the entire scale from fundamental to applied research, in collaborative initiatives within the areas of biomolecules, microorganisms, plants and food, with a common mission:
"Science and Education for Sustainable Life".
Research
An important area is fundamental research of structure and function of proteins, both within and outside cells, including isolation or recombinant expression, purification and structural determination of biological catalysts, enzymes, and characterization of their function in biosynthesis and biodegradation in nature.
Structure determination with X-ray crystallography is a core competence and we have deposited over 100 structures at the Protein Data Bank (PDB). Recently we have also started to expand into Cryo-EM and more NMR for macromolecular structure studies.
One major theme is basic and applied research of biological reaction systems, enzymatic and microbial, for biotechnical applications for conversion of biomass, e.g. from agriculture and forestry, for production of renewable fuels, chemicals, materials, food and feed components, to increase usability of renewable plant biomass and thereby contribute to reduction of fossil resource usage and reduced greenhouse gas emissions.
We also collaborate closely with the Food Biotechnology unit, lead by Professor Volkmar Passoth, in the LipoDrive program, to exploit oil-accumulating yeasts for conversion of carbohydrates from plant biomass to lipids, for production of e.g. biodiesel and fish feed.
People
Current members
Mats Sandgren

Assoc Prof, Docent, PI, Head of unit

Telephone: +4618673179, +46702233826

E-mail: mats.sandgren@slu.se

Jerry Ståhlberg

Assoc Prof, Docent, Researcher, PI

Telephone: +4618673182, +46704697926

E-mail: jerry.stahlberg@slu.se

Gustav Nestor

Assoc Prof, Docent, Researcher, PI

Telephone: +4618673188

E-mail: gustav.nestor@slu.se

Sabine Sampels

Assoc Prof, Docent, Researcher, PI

Telephone:+4618672005

E-mail: sabine.sampels@slu.se

Mikolaj Chmielarz

PhD, Research Engineer

E-mail: mikolaj.chmielarz@slu.se

Topi Haataja

PhD, Postdoctor

E-mail: topi.haataja@slu.se

Andreia Massamby

Doctoral Student

E-mail: andreia.massamby@slu.se

Nils Mikkelsen

PhD, Research Engineer, IT coordinator

Telephone: +4618673186, +46707317890

E-mail: nils.mikkelsen@slu.se

Laura Okmane

PhD, Postdoctor

E-mail: laura.okmane@slu.se

Naike Schwenner

Doctoral Student

E-mail: naike.schwenner@slu.se

Piera Wiesinger

Doctoral Student

E-mail: piera.wiesinger@slu.se
Alumni
Dr. Anna Borisova
Dr. Mikael Gudmundsson
Dr. Majid Haddad Momeni
Dr. Inés G. Muñoz
Dr. Henrik Hansson
Prof. Torleif Härd
Dr. Takuya Ishida
Dr. Saeid Karkehabadi
Dr. Rie Kawai
Dr. Christofer Lendel
Dr. Bing Liu
Prof. Jana Pickova
Prof. Christina Payne
Dr. Saumendra Prasad Roy
Dr. Benjamin Schmuck
Dr. Jonas Vasur
Dr. Miao Wu
Dr. Anton Zavialov
Publications
For the current list of publications in SLUpub database by authors Gustav Nestor, Sabine Sampels, Mats Sandgren and/or Jerry Ståhlberg: Click Here
Doctoral theses with Gustav Nestor, Sabine Sampels, Mats Sandgren and/or Jerry Ståhlberg as main or assistant supervisors:
Studies of Hyaluronan and Related Structures by NMR Spectroscopy. Xue, Yan. 2023. DOI: 10.54612/a.4daped2rv8
Insights into genomics and gene expression of oleaginous yeasts of the genus Rhodoturula. Martín Hernández, Giselle De La Caridad. 2023. DOI: 10.54612/a.39o6ovnn6m
Structure and function studies of GH45 glycoside hydrolases. Okmane, Laura. 2023. DOI: 10.54612/a.3f14k593rr
Structure-function studies of GH7 cellulases, key enzymes in the global carbon cycle. Haataja, Topi. 2023. DOI: 10.54612/a.672jon1kdu
Metabolites in fish and humans as a response to different food ingredients : a metabolomics approach. Brunel, Mathilde. 2023. DOI: 10.54612/a.524khafcck
Conversion of lignocellulose and crude glycerol to lipids by oleaginous yeasts - physiology and diversity. Chmielarz, Mikolaj . 2021.
Salix as a biorefinery feedstock : an inquiry into factors affecting conversion performance. Ohlsson, Jonas. 2021.
Lipid production from lignocellulosic material by oleaginous yeasts. Brandenburg, Jule. 2021.
Dissecting function and catalytic mechanism of fungal lytic polysaccharide monooxygenases. Liu, Bing. 2019.
Structural Studies of Hyaluronan Hydrogels. Wende, Frida. 2019.
Amyloid aggregates: detection and interaction. Rahman, Mahafuzur. 2018.
Functionalized protein nanomaterials and their biotechnological applications. Schmuck, Benjamin. 2018.
GH7 cellobiohydrolases structural, functional and evolutional aspects. Borisova, Anna. 2017.
Structure and host-receptor recognition studies of Gram-negative bacterial fimbriae assembled via the chaperone/Usher Pathway. Roy, Saumendra Prasad. 2015.
Structure and functional studies of plant cell wall degrading enzymes. Gudmundsson, Mikael. 2014.
Structural insights into the catalytic mechanism, protein dynamics, inhibition and thermostability of GH7 cellobiohydrolases. Haddad Momeni, Majid. 2014.
X-ray structure and function studies of key enzymes for biomass conversion: GH6 cellobiohydrolases and GH61 lytic polysaccharide monooxygenases (LPMO). Wu, Miao. 2013.
Probing promiscuity: Structural studies of Phanerochaete chrysosporium Laminarinase 16A. Vasur, Jonas. 2009.
Structural studies of cellulose and chitin active enzymes. Ubhayasekera, Wimal. 2005.
Structural and Functional Studies of Cellobiohydrolase Cel7D from the White-rot Fungus Phanerochaete chrysosporium. Muñoz, Inés G. 2002.
Video Gallery
MD simulation of a fungal LPMO enzyme working on the surface of cellulose (Wu et al, 2013, J Biol Chem 288, 12828).
Exploring Protein Structure: Synchrotron X-ray Crystallography Insights.
---
Contact