New tool for measuring cumulative impact will improve marine spatial planning in the Western Indian Ocean
Published: 24 May 2022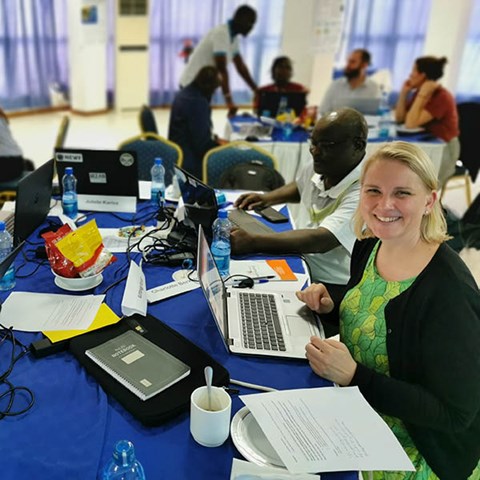 How do anthropogenic pressures affect the marine environment? This new web-based tool called WIO Symphony allows users to visualise the cumulative impact of various pressures on marine ecosystems, and explore different scenarios, such as escalating pressure levels, or the implementation of protected areas. SLU has played an important role in developing the tool, and was recently involved in a workshop with partners and stakeholders in Mombasa, Kenya.
The WIO Symphony project has been running since 2020, led by the Swedish Agency for Marine and Water Management (SwAM), in collaboration with the Department of Aquatic Resources (SLU Aqua), the Geological Survey of Sweden (SGU), Gothenburg University (GU) and the Nairobi Convention.
A tool for marine spatial planning
WIO Symphony is a web-based tool for cumulative impact assessment, which allows you to visualize spatial data of ecosystem components and pressures, test scenarios, and compare different ways of using the ocean, and was first developed to support marine spatial planning in Sweden.
"SLU Aqua has been highly engaged in multiple activities including webinars, digital workshops, technical training, spatial modelling and most recently the physical workshop in Mombasa", says Charlotte Berkström, researcher at SLU Aqua. SLU Aqua were also involved in the development of the Swedish Symphony-tool.
The workshop in Kenya focused on engaging more national experts to identify and gather national data, produce data layers, and identify areas in need of improvement.

Cooperation for reduced poverty
The WIO Symphony project is part of a larger program, SwAM Ocean, which is financed by Sida, the Swedish International Development Cooperation Agency. This program at SwAM focuses on development assistance for planning, protection and sustainable use of our oceans to reduce poverty and collaborates with the Nairobi Convention and its 10 member states.
The workshop in Kenya was one of the first on-site meetings after the pandemic. "For the last two years we have had digital workshops, often with all 10 countries from the WIO-region, due to travel restrictions", says Charlotte. "It is great to finally meet in person and work together".
A trip to Zanzibar, Tanzania, was also done to meet with Arthur Tuda, the director of the Western Indian Ocean Marine Science Association (WIOMSA), and update him on the progress of WIO Symphony and connect with local researchers and collaborators.
---
Contact
Charlotte Berkström, Researcher
Department of Aquatic Resources, Institute of Coastal Research, SLU
charlotte.berkstrom@slu.se, +46 10 478 41 65
---
Links: