SLU will lead a major investment in the development of bio-based adhesives
Published: 11 September 2023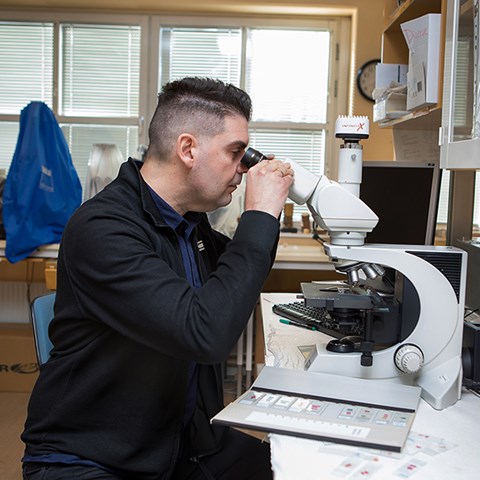 In the manufacture of furniture, glued laminated timber, and packaging, huge amounts of adhesives are used, which today are almost exclusively fossil-based. Now a consortium consisting of three universities and twelve industrial companies will speed up the work of developing bio-based and more sustainable adhesives. The "BioGlue-Centre", to be led by Stergios Adamopoulos from SLU, has a budget of just over SEK 100 million, of which about a third is financed by Vinnova.
Sweden's innovation agency Vinnova invests in 11 new competence centres starting in January 2024, where universities and companies will jointly conduct excellent research and education in areas that are important for a sustainable industry and digital social transformation.
One of these is the BioGlue-Centre: Competence centre for bio-based adhesives.
About 25 percent of all adhesives produced worldwide, are used in the manufacture of furniture, wood-based construction materials and packaging. Companies in these sectors have a strong need to become more sustainable by increasing the speed of finding bio-based alternatives to the vast amounts of the, almost exclusively, fossil-based adhesives used today.
So far, it has not been possible to replace fossil-based adhesives with bio-based adhesives because there is a lack of basic knowledge to create high-performance and more environmentally friendly products.
The BioGlue-Centre will be led by Stergios Adamopoulos from the Swedish University of Agricultural Sciences, a university that will focus on the areas of adhesion and adhesives, as well as sustainability. KTH Royal Institute of Technology will focus on polymer science and technology, while Linnaeus University will focus on wood and building technology, and sustainability.
"The aim of BioGlue-Centre is to become a world-leading research environment in adhesives and adhesive function. There is nothing equivalent anywhere else", says Stergios Adamopoulos.
The consortium also includes suppliers of bio-based raw materials and by-products from forestry and agriculture as well as manufacturers of binders, adhesives, furniture, construction materials and packaging.
"The consortium has ensured that there is a strong industrial ecosystem around the centre, with both large and small and medium-sized companies", says Stergios Adamopoulos.
Press release from Vinnova
https://www.vinnova.se/en/news/2023/09/effort-on-strong-research-environments-for-sustainable-and-digital-transformation/
Contact
Stergios Adamopoulos, Professor of Wood Science and Wood Technology
Department of Forest Biomaterials and Technology
Swedish University of Agricultural Sciences
+4618672474, stergios.adamopoulos@slu.se
https://www.slu.se/en/ew-cv/stergios-adamopoulos/
---
Contact