Team members and collaborators
Last changed: 05 March 2019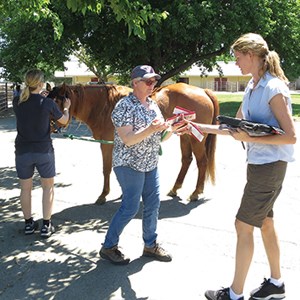 SLU team members
Pia Haubro Andersen pia.haubro.andersen@slu.se
PhD (vet), Professor at SLU, Professor of Large Animal Surgery
As a Professor at SLU, Pia has over 30 years of experience with equine, cattle and porcine surgery as well as a broad experience in teaching and research, focusing on her three favorite areas of trauma, inflammation and pain. During her career, Pia has developed a large international network of collaborators. The most current research project includes academic experts in "machine learning technology" from both KTH here in Sweden and at UC Davis in California. Together, they are researching how to develop automated pain reading in horses, with possible future applications in other animal species.
Marie Rhodin, marie.rhodin@slu.se
PhD (vet), DipACVSMR, Senior Lecturer at SLU
Main interest is in equine orthopedics and clinical biomechanics. This involves studying the movement pattern and loading in sound horses during training or horses that have become lame with a particular interest in different ways of objectively assessing lameness and developing a better understanding of how the horse compensates its motion to reduce a painful load during lameness. In addition to running a large number of research projects, supervising three doctoral students and being an assistant supervisor for additional doctoral students in other parts of Europe, Marie also teaches veterinary students at SLU and works as a clinician veterinarian at UDS horse clinic.
Elin Hernlund, elin.hernlund@uds.slu.se
PhD (vet), Post-Doc at SLU
As a Post-Doc researcher, Elin is involved in many different research projects. Her main focus is on developing more advanced movement analysis in equine lameness diagnostics. To do this, she studies how movement pattern is related to functional anatomy, specific pain location(s) as well as visual pattern recognition. Elin has received grants for developing better equine lameness diagnostics with the help of new methods of analysis such as Artificial Intelligence. In 2016 Elin defended her thesis that examined equestrian sports surfaces. In addition to her research, Elin also works as a clinician veterinarian at UDS horse clinic and teaches students in clinical and functional anatomy on horses. For veterinary students, she also conducts clinical teaching in orthopedics and movement analysis and supervises doctoral students.
Katrina Ask, katrina.ask@uds.slu.se
PhD student
In the autumn of 2017, veterinarian Katrina Ask began her research as a doctoral student of Marie Rhodin and Pia Haubro Andersen's orthopedic project "Does it hurt?" As a doctoral student, Katrina researches orthopedic pain that causes much suffering and reduced animal welfare in horses and cows. After her veterinary degree in Denmark, Katrina completed an equine internship at the University Animal Hospital's Equine Clinic and worked as a veterinarian in Gotland and at a horse clinic in Denmark.
Johan Lundblad, johan.lundblad@slu.se
Research Assistant
Camilla Frisk, camilla.frisk@slu.se
Research Assistant
Scandinavian team collaborators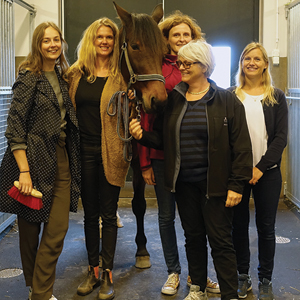 Royal Institute of Technology (KTH), Stockholm

Hedvig Kjellström, Professor and Head of the Department Robotics, Perception, and Learning (RPL) at KTH
Researches the automated analysis of human activity and communicative behavior.
Sofia Broomé, PhD student at KTH
Investigates pain evaluation and pain management in cattle and horses, with a focus on behavioural responses to acute and chronic pain.
SLU, Alnarp
Christer Bergsten, Professor at the Department of Biosystems and Technology with a focus on management systems, flooring systems, hygiene, animal welfare, production diseases, lameness, claw care..

Denmark
Karina Bech Gleerup, PhD (vet)
International Educational Partners
Max Planck Institute for Intelligent Systems, Germany
Michael Black, Founding Director at the Max Planck Institute for Intelligent Systems in Tübingen, Germany, where he leads the Perceiving Systems department
Silvia Zuffi, Research Scientist
University of California, San Diego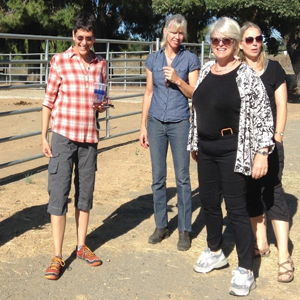 Deborah Forster, PhD, Assistant Project Scientist, Calit2
Conducts research in Quantitative Social Research, Qualitative Social Research and Biological Anthropology
Gwen Littlewort, PhD, Associate Project Scientist, Co-director of the Machine Perception Laboratory
Performs research in Computing in Mathematics, Natural Science, Engineering and Medicine, Artificial Neural Network and Algorithms.
University of California, Davis
Claudia Sonder, Director of Outreach at the Center for Equine Health
Serves as a liaison between UC Davis and the equine industry to prove scientific and educational resources to solve industry problems
Jamie Peyton, Chief of the Integrative Medicine Service
Focuses on clinical client work and research that combines conventional medicine with complementary therapy to provide a whole patient approach
Yong Jae Lee, PhD, Assistant Professor in the Computer Science Dept.
Main research interests are in computer vision, machine learning, and computer graphics, with a particular interest in visual recognition systems.
Maheen Rashid, PhD student in the Computer Science Dept.
Utrecht University
P.R. (René) van Weeren, PhD, DipECVS, Professor and Head of the Dept. of Equine Sciences
J.A.P.M. (Thijs) van Loon, Assistant Professor in the Dept of Equine Sciences
F.M. (Filipe) Serra Braganca, PhD student in the Dept. of Equine Sciences
---
Contact
Pia Haubro Andersen, Researcher


Department of Anatomy, Physiology and Biochemistry (AFB), Division of Anatomy and Physiology