SLU's knowledge bank
Asymptomatic young horses can be infected with strangles
Last changed: 28 March 2019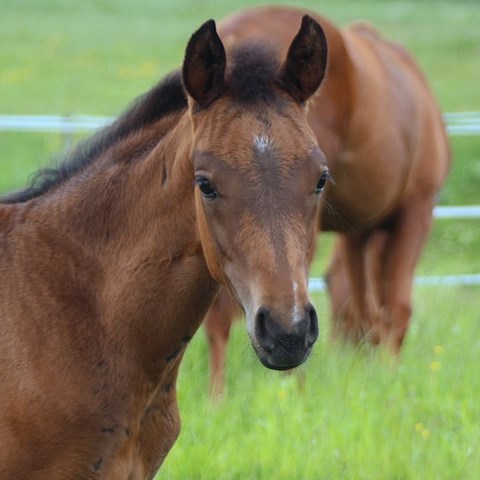 Streptococcus equi ssp. equi causes characteristic clinical signs that are most severe in young horses, including fever, purulent nasal discharge, and lymph node abscessation in the head region. Clinical, serologic, and microbiologic factors related to unexpectedly mild disease severity in a natural outbreak of strangles in immunologically naïve weanlings were investigated.
Animals
One‐hundred and twelve warmblood weanlings.
Methods
Prospective longitudinal observational study of a natural outbreak of strangles. The entire cohort was examined at the peak of the outbreak by deep nasal swabs for culture and quantitative PCR (qPCR) for the presence of S. equi and clinically and serologically in a sequential manner by an optimized ELISA from the index case throughout the outbreak until resolution. Descriptive statistics were calculated and comparisons made using a nondirectional Wilcoxon signed‐rank test.
Results
Outbreak morbidity was 53%, with 9 of 14 horses culture positive and 26 of 53 horses qPCR positive for S. equi lacking clinical signs characteristic of strangles. By resolution, 91 of 112 had seroconverted to Antigen A by ELISA but seroconversion to antigen C (part of the SeM protein) was minimal. Sequencing of the isolates detected no alterations in the SeM protein, but identified a 61 bp deletion in the gene SEQ_0402.
Conclusions and Clinical Importance
Absence of clinical signs alone in naïve horses may be an insufficient criterion to release horses from strangles quarantine measures. Restricted seroconversion to antigen C may have been associated with decreased clinical severity. The role of a minor gene deletion in SEQ_0402 in the virulence of S. equi warrants further investigation.
Link to the publication
https://www.ncbi.nlm.nih.gov/pmc/articles/PMC5787152/
Reference
Tscheschlok L, Venner M, Steward K, Böse R, Riihimäki M, Pringle J. Decreased Clinical Severity of Strangles in Weanlings Associated with Restricted Seroconversion to Optimized Streptococcus equi ssp equi Assays. J Vet Intern Med 2018;32:459–464.
---
Contact
Miia Riihimäki
Lecturer at the Department of Clinical Sciences; Equine Medicine Unit

Telephone: 018-671881, 0706-905107
E-mail: miia.riihimaki@slu.se