The Alnarp Landscape Laboratory
Last changed: 15 April 2021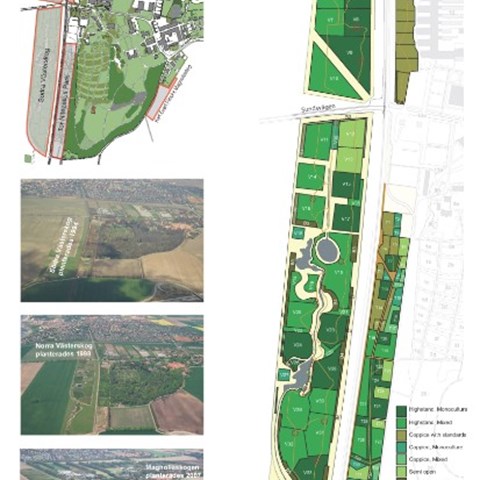 The Alnarp landscape laboartory includes about 20 hectars of woodland stands and edges, shelterbelts, roadside plantations, meadows, wetlands and waterbodies for experimental vegetation- and landscape design, construction and management.
The landscape laboratory in Alnarp includes about 20 hectars of woodland stands, edges, shelterbelts, roadside plantations, meadows, wetland and waterbodies, constructed and planted close to campus from 1982 and onward. Here landscape enrichment and dynamic vegetation design
measures and actions as an inspiration for urban forests, agricultural land,
parks, gardens and road environments are studied and demonstrated in full scale. The main aim is to explore and show examples of multiple use and enrichment in terms of forestry and agricultural production, recreation and ecological values. By focusing the design, construction and management of new and young landscape elements and characters, the landscape lab is rather unic in a Swedish context. The recreative profit in a densly populated area is increasingly improved, whilst students, teachers and researchers are offered an outdoor laboratory for long term following up studies as well as shorter experiments, workshops and out-door learning. Currently the laboratory accommodates some research projects such as woodland edge studies, color experience in forest environments and long term dynamics and interaction in woodland stands.
Annually the laboratory is visited by 20-40 groups from national as well as international universities, institutions, administrations, and companies and has had a great impact on the park- and recreation landscape development in the 21st century in Sweden. The lab in Alnarp is part of a landscape laboratory network in Europe including labs in Sweden, Denmark, Germany, France, Switzerland and England. We are very interested in a growing network and new collaboration partners in the fields of vegetation-, recreation- and art-directed research as well as about outdoor learning and learning by doing.
---
Contact
---
Links