---
There are 9 pages tagged with University Animal Hospital:
Serglycin, a new prognostic biomarker for cancer in dogs
Cancer in various forms affects dogs as well as humans. More than half of all dogs over the age of 10 are diagnosed with cancer. Health information from more than 350,000 Swedish dogs, compiled from
Parasite occurrence in horses with gastrointestinal disease
All grazing horses are exposed to intestinal parasites, which have the potential to cause gastrointestinal disease. In Sweden, there is a concern about an increase in parasite-related equine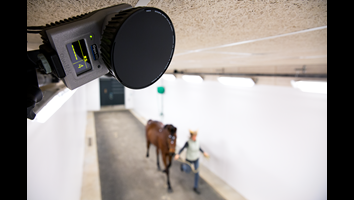 AniLocoLab
AniLocoLab is a unique clinical gait laboratory that enables the study of movement in domesticated animals. AniLocoLab was made possible thanks to a infrastructure grant from SLU in 2015. The lab is
Tenoscopic method affect risk of radiocarpal joint perforation
The objective of the current study was to report the frequency of radiocarpal joint perforation during two proximolateral carpal sheath approaches and to investigate the presence or absence of a
Case report: A large cyst in the distal femur of a horse
A 10‐year‐old Warmblood gelding presented with a left hindlimb lameness. Diagnostic analgesia located the lameness to the stifle. Radiography showed an unusually large cyst in the distal femur.
Ovanlig blodparasit hos en svensk hund
In this case report, a Swedish flat‐coated retriever was diagnosed with an extensive Hepatozoon canis infection. The dog had a prominent monocytosis (14.0 × 109/L) with H. canis gamonts detected in
Patellartendinosis
Soft tissues around the kneecap (patella) as a cause of equine lameness is an area yet to be scientifically investigated but that is often clinically treated with "alternative" methods without an
Biological variation of 20 analytes in cat serum
The applications of data on biological variation include assessment of the utility of population-based reference intervals, evaluation of the significance of change in serial results, and setting of
CRP in diagnosis of joint disease in dogs
In a dog with joint pain, it is important to determine whether it has suppurative joint disease, characterized by exudation of neutrophils in the synovial fluid, or not, as this affects choice of
Loading…