Conference venue & hotels
Last changed: 07 December 2016
Conference venue
The host of the Beyond Ism-conference is the Swedish University of Agricultural Sciences (SLU). The university's campus is located in Alnarp, outside of Malmö, Sweden. Shuttle busses from Malmö to the conference venue at campus Alnarp will be provided. Malmö is conveniently accessible through Copenhagen airport in Denmark, with connecting trains over the Öresund Bridge. Direct trains between Copenhagen Airport and Malmö Central Station operate every 20 minutes. The journey takes only 24 min.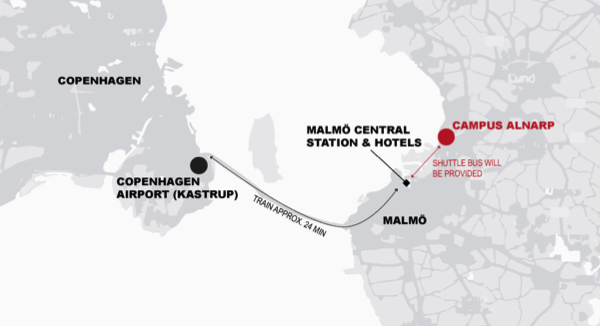 Maps (PDF)
The conference venue is the main hall in the building called Alnarpsgården at Campus Alnarp.
Postal address:
Dept. of Landscape Architecture, Planning and Management
Swedish University of Agricultural Science
PO. Box 58
230 53 Alnarp
Visiting address:
Sundsvägen 6, Alnarp
Phone:
+46 (0)40 41 50 00
For additional information on the University please visit: www.slu.se
Hotels
Beyond ISM's official hotels are Clarion Hotel & Congress Malmö Live and Comfort Hotel Malmö. Shuttle busses from the hotels to the campus Alnarp will be provided. To be guaranteed the conference rate, please make your reservation by calling or e-mailing one of the listed hotels:
Clarion Hotel & Congress Malmö Live
Clarion Hotel & Congress Malmö Live rises 85 metres above ground, a new landmark to add to the city skyline. A meeting place far beyond the norm for local residents, visitors and conference guests alike.
Single room: 1495 SEK/person/night (including breakfast) and also 50 SEK/booking (not per night) administration fee.
Call +46 40 200 75 00 or e-mail book@clarionlive.se
Quote the code: GR004972
Comfort Hotel Malmö
Located just 150 metres from Malmö Central Station, trendy Comfort Hotel Malmö has a cool rock chic vibe. Malmo's nightlife, beaches, restaurants and shops are right on your doorstep. With a restaurant, bar and the coolest gym in town. Visit Malmo's gem!
Single room: 1195 SEK/person/night (including breakfast)
Call +46 40 33 04 40 or e-mail co.malmo@choice.se
Quote the code: 2029GR003952
---
Contact