Competence certificate for horse transportation
Last changed: 02 May 2023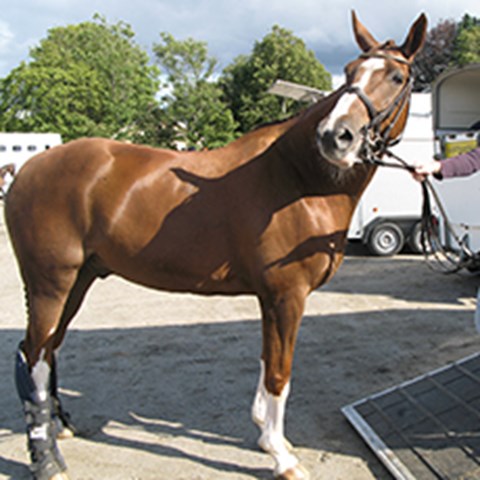 According to EU Regulation EC 1/2005, anyone who, in the context of economic activities, transports live vertebrates must be able to present a certificate of competence in training on animal welfare during transport. This means that many horse owners are required to obtain a certificate of competence.
SLU Meny offers an easily accessible way to obtain proof of competence for horse transport according to Council Regulation (EC No 1/2005), which relates to protecting the welfare of animals during transportation. The course is approved by the Swedish Board of Agriculture and is only available in Swedish.
What is included in the course?
Areas of knowledge:
The horse trailer
Horse and horse handling
The driver
Laws and regulations
How does it work?
The course is flexible; start when you want to, and work at your own pace. It takes about eight hours in total, but can be carried out several parts. It consists of independent work with web modules, and is examined with a final quiz consisting of questions covering the different areas of knowledge.

The course content is based on short cases, with theory sections interspersed with quizzes.
Who is the course for?
The course is aimed at anyone who, in connection with an economic activity, transports horses.
How much is it, and how do I register?
The course costs 2400 SEK/person (excl. VAT).
Sign up here
What is included in the fee?
The course fee includes 30 days access to the web modules and three attempts at the final quiz.
It is possible to register for a new final quiz and get three new attempts. This costs 750 SEK (excl. VAT). Email menyanmalan@slu.se to sign up for a new final quiz.
Invoice processing
SLU normally sends out invoices every week. In the case of full-year and half-yearly financial statements (January and July), there is a delay of invoices of up to three weeks.
Quick processing
Are you in a hurry? Quick processing means that a copy of the certificate of competence is emailed within two working days of passing the examination. Your certificate of competence will otherwise be emailed to you when the invoice is paid. When the invoice is paid, reporting is also made to the Swedish Board of Agriculture.

Extra cost for quick processing: 750 SEK(excl. VAT).
Note: Quick processing is not available during the holiday /holiday (v 26-33), or in connection with larger weekends.
Registration of the competens certificate
The approved course provides proof of competence according to EC 1/2005. SLU will report the results to the Swedish Board of Agriculture. Foreign citizens, who need registration with the authoritiy in another country, must take care of this themselves.
Lost your certificate of competence?
Email menyinfo@slu.se to ask for a new certificate if you have lost yours, provided that you have taken the course with SLU Meny.
Frequently asked questions
Do you have a question about course certificate, agreement, invoice or quick handling? You're not the only one. Find answers to the most frequently asked questions.
---
Contact
Maria Lingaas, Education manager
SLU Meny
maria.lingaas@slu.se
0511-670 22
Anna-Karin Johnson, Communicator
SLU Meny
anna-karin.johnson@slu.se
0511-671 93
---
Links