Education at BVF
Last changed: 01 March 2023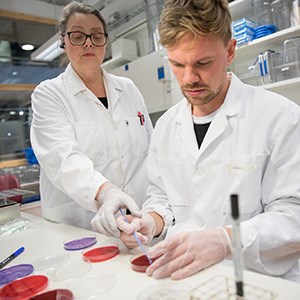 At BVF, we teach at undergraduate, advanced and postgraduate level. The teaching covers large parts of the preclinical section of the veterinary education and includes bacteriology, pharmacology, immunology, parasitology, pathology, toxicology, veterinary public health (including food hygiene and food safety) and virology.
Most of BVF's undergraduate courses are included in the veterinary program, but we also teach in the veterinary nurse program, the ethology and animal welfare program and the animal and sustainability program, etc.
Many students do their degree project at BVF. Are you also interested? Below you will find project proposals, but it is also possible to contact us at bvf.isr@slu.se to find a suitable supervisor if you yourself have a project proposal within our subject areas.
---
Contact