Development of breeding methods for the perennial forage grass timothy
Last changed: 14 December 2021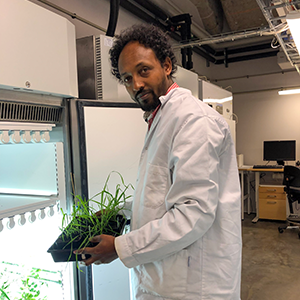 Timothy (Phleum pratense) is one of the most cultivated forage and pasture grasses in temperate regions. Its perennial growth habit and large distribution make timothy an important crop for reducing the negative environmental impact of agriculture. We have recently started a project on the development of genomic selection, a new method in the breeding of climate-adapted timothy cultivars for cultivation in Sweden and other temperate regions.
Selection of plants based on their performance in the field for further crossing has been a major method used in past and current breeding of timothy. However, this can be a very slow process with low genetic gain per breeding cycle, especially, in an obligate outcrossing and polyploid plant such as timothy. More efficient methods for timothy breeding is therefore needed.
By developing genomic selection models, we will be able to predict the phenotype of a trait at an early stage of plant development with solely genome-wide marker data. This will avoid costly and time-consuming evaluation in the field and make the breeding of new winter hardy timothy cultivars with good regrowth and high yield more efficient.
Collaboration
This project is carried out in collaboration with the PhD student Yousef Rahimi, who I am the main advisor for, and the co-advisers Pär Ingvarsson, Department of Plant Biology, SLU, Uppsala and Anne-Maj Gustavsson, Departmen of Agricultural Research for Northern Sweden, Umeå, SLU. Involved in this project are also Girma Bedada, Department of Plant Biology, SLU, Uppsala, and Linda Öhlund and Alf Ceplitis at Lantmännen Agriculture, Sweden.
Facts:
Funding
SLU Grogrund – Centre for Breeding of Food Crops, Sweden.
---
Contact
Anna Westerbergh
Associated Professor
Department of Plant Biology, SLU
E-mail: anna.westerbergh@slu.se
Telephone: +46 (0)18-67 33 40
CV-page