Daniel Hofius' Lab - Plant-Pathogen Interactions
Last changed: 10 March 2023
We have a general interest in understanding the molecular and genetic mechanisms by which plants interact with and defend themselves against pathogens.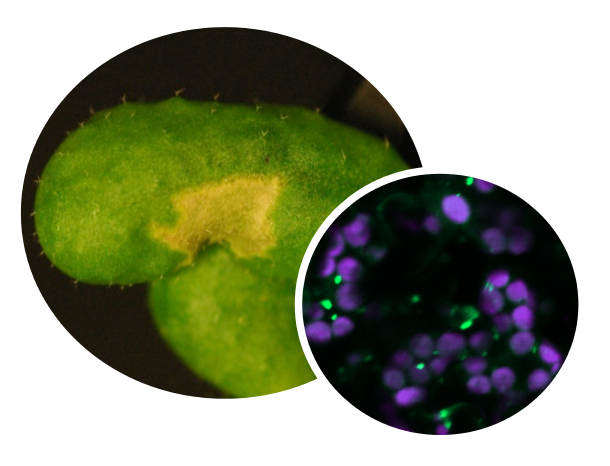 We focus on two evolutionary conserved biological processes with fundamental roles in both organismal health and pathological circumstances: Autophagy (Greek for "self-eating") representing a major cellular degradation and renewal system, and programmed cell death (PCD) referring to different routes of genetically controlled cell suicide. We particularly aim at deciphering their functions, regulation, and interplay in plant immunity and disease.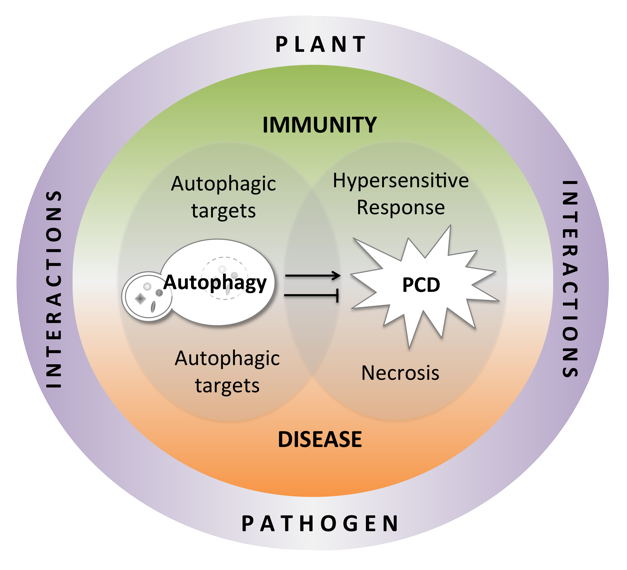 Our current research addresses the following themes:
Role of autophagy in host immunity and pathogen-triggered cell death
Pathogen modulation and pro-microbial functions of autophagy
Crosstalk of autophagy with the ubiquitin-proteasome system
Membrane trafficking and vacuole functions in autophagy and cell death
Epigenetic regulation of plant immunity and cell death
Manipulation of autophagy for improved pathogen and stress resistance
We apply state-of-the-art genetic, proteomic, biochemical and cell biological approaches, and work with different bacterial, viral, and oomycete/fungal pathogens mainly in the model plants Arabidopsis thaliana and Nicotiana benthamiana. In addition, we strive to translate our findings into crop plants like potato and tomato.
For more details of the lab activities, please visit our Research background and focus, Research projects, and Publications pages.

We are located at the Uppsala BioCenter and are part of the Linnéan Center for Plant Biology in Uppsala (LCPU) and the Nordic Autophagy Network/Society. Our research is currently funded by SLU, the Swedish Research Councils VR and FORMAS, the Novo Nordisk Foundation, and the EU Marie Skłodowska-Curie Action (MSCA). Previous funding was obtained from the Knut and Alice Wallenberg (KAW) Foundation (Epifate project), Carl Tryggers Stiftelse, and the Federation of European Biochemical Societies (FEBS).
NEWS! We have open positions for a PhD student and a Postdoc in the group. If interested, please contact daniel.hofius@slu.se or visit the SLU website
Present group members
• Nirbhay Kushwaha, Postdoc email
• Changxin Liu, Postdoc email
• New PhD student (spring 2023)
• New Postdoc (spring/summer 2023)
Previous group members
• Sheena Rasmussen, Postdoc
• Jitka Ortmannová, Postdoc
• Anders Hafrén, Postdoc
• Suayib Üstün, Postdoc
• Ooi-kock Teh, Postdoc
• Ramesh Vetukuri, Postdoc
• Dimitrios Kokoretsis, PhD student
• Qinsong Liu, PhD student
• Anton Hochmuth, MSc student
• Giulia Ghirardello, MSc student
• David Solbach, MSc student
• Dimitri Wauters, Erasmus student
• Selina Manuela Windecker, Erasmus student
Selected publications
Full publication list PubMed Google scholar
Leong JX, Raffeiner M, Spinti D, Langin G, Franz-Wachtel M, Guzman AR, Kim JG, Pandey P, Minina AE, Macek B, Hafrén A, Bozkurt TO, Mudgett MB, Börnke F, Hofius D, Üstün S (2022). A bacterial effector counteracts host autophagy by promoting degradation of an autophagy component. EMBO J, 41, e110352 PubMed
Shukla A, Hoffmann G, López-Gonzaléz S, Hofius D, Hafrén A (2022). Salicylic acid and the viral virulence factor 2b regulate the divergent roles of autophagy during Cucumber mosaic virus infection. Autophagy 18, 1450-1463 PubMed
Dvořák Tomaštíková E, Hafrén A, Trejo-Arellano MS, Rasmussen SR, Santos-González J, Sako H, Köhler C, Hennig L, Hofius D (2021). Polycomb Repressive Complex 2 and KRYPTONITE regulate pathogen-induced programmed cell death in Arabidopsis. Plant Physiol. 185, 2003-2021 PubMed
Li Q, Serio R, Schofield A, Liu H, Rasmussen S, Hofius D, and Stone S (2020). Arabidopsis RING-type E3 ubiquitin ligase XBAT35.2 promotes proteasome-dependent degradation of ACD11 to attenuate abiotic stress tolerance. Plant J. 104, 1712-1723 PubMed
Kushwaha NK, Hafrén A, Hofius D (2019) Autophagy-virus interactions: from antiviral recognition to proviral manipulation. Mol. Plant Pathol. 20, 1211-1216 PubMed
Üstün S, Hafrén A, Liu Q, Marshall RS, Minina EA, Bozhkov P, Vierstra RD, Hofius D (2018) Bacteria exploit autophagy for proteasome degradation and enhanced virulence in plants. Plant Cell 30: 668–685 PubMed More info
Liu Q, Vain T, Viotti C, Doyle SM, Tarkowská D, Novák O, Zipfel C, Sitbon F, Robert S, Hofius D (2018) Vacuole Integrity Maintained by DUF300 Proteins Is Required for Brassinosteroid Signaling Regulation. Mol. Plant 11, 553-567 PubMed
Hafrén A, Üstün S, Hochmuth A, Svenning S, Johansen T, Hofius D (2018) Turnip mosaic virus counteracts selective autophagy of the viral silencing suppressor HCpro. Plant Physiol. 175, 649-662 PubMed
Üstün S, Hafrén A, Hofius D (2017) Autophagy as a mediator of life and death in plants. Curr. Opin. Plant Biol. 40, 122-130 PubMed
Hafrén A, Macia JL, Love AJ, Milner JJ, Drucker M, Hofius D (2017) Selective autophagy limits cauliflower mosaic virus infection by NBR1-mediated targeting of viral capsid protein and particles. Proc Natl Acad Sci U S A 114, E2026-E2035 Pubmed
Hofius D, Li L, Hafrén A, Coll NS (2017). Autophagy as an emerging arena for plant-pathogen interactions. Curr Opin Plant Biol. 38, 117-23 PubMed
Mozgova I, Wildhaber T, Liu Q, Abou-Mansour E, L'Haridon F, Métraux J-P, Gruissem W, Hofius D, and Hennig L (2015). Chromatin assembly factor CAF-1 represses priming of plant defence response genes. Nature Plants Article No 15127 PubMed
Munch D*, Teh OK*, Malinovsky FG*, Liu Q, Vetukuri RR, El Kasmi F, Brodersen P, Hara-Nishimura I, Dangl JL, Petersen M, Mundy J, and Hofius D (2015). Retromer contributes to immunity-associated cell death in Arabidopsis. Plant Cell, 27, 463-79. (*co-first authors)
Minina EA, Bozhkov P, and Hofius D (2014). Autophagy as an initiator or executioner of programmed cell death in plants. Trends Plant Sci., 19, 692-7.
Munch D, Rodriguez E, Bressendorff S, Park OK, Hofius D, and Petersen M (2014). Autophagy deficiency leads to accumulation of ubiquitinated proteins, ER stress, and cell death in Arabidopsis. Autophagy 10, 1579-87.
Teh OK and Hofius D (2014). Membrane trafficking and autophagy in pathogen-triggered cell death and immunity. J. Exp. Bot. 65, 1297-312.
Hackenberg T, Juul T, Auzina A, Gwizdz S, Malolepszy A, van der Kelen K, Dam S, Bressendorff S, Lorenzen A, Roepstorff P, Lehmann Nielsen K, Jørgensen JE, Hofius D, van Breusegem F, Petersen M, and Andersen SU (2013). Catalase and NO CATALASE ACTIVITY1 promote autophagy-dependent cell death in Arabidopsis. Plant Cell 25, 4616-26.
Hofius D, Schultz-Larsen T, Joensen J, Tsitsigiannis DI, Petersen NH, Jørgensen LB, Mattsson O, Jones JD, Mundy J, and Petersen M (2009). Autophagic components contribute to hypersensitive cell death in Arabidopsis. Cell 137, 773-783.
Visiting address:
SLU
BioCenter, Room A-471
Almas Allé 5
Uppsala
Postal address:
Department of Plant Biology
SLU
PO Box 7080
SE-750 07 Uppsala
Sweden
---
Contact
Daniel.Hofius@slu.se
Professor of Molecular Plant-Pest/Disease Interactions
Daniel.Hofius@slu.se, +46-18-673375