Kornet (SLU), Umeå and online (Zoom)
Seminar: Forages, with a northern focus
seminars, workshops |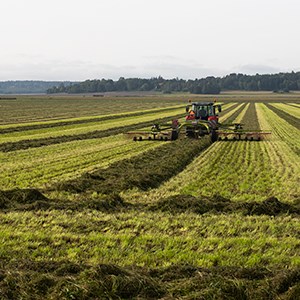 In conjunction with Brooke Micke's PhD defence, we are holding a seminar, with speakers from the evaluation committee.
We will talk aboout forage research at SLU and at the Czech University of Life Sciences Prague (CZU). We will also talk about possibilities to grow Trifolium ambiguum in Europe, red clover for mixed cropping in a Northern climate and the nitrogen fertilizer challenge in grass-clover leys.
All presentations will be in English.
Facts
Time: 2023-09-28 13:00 - 16:00
City: Umeå and online (Zoom)
Location: Kornet (SLU)
Organiser: Department of Crop Production Ecology

Programme
13.00 David Parsons, SLU, Sweden. Introduction – An overview of forage research at VPE
13.30 Jadwiga Andrzejewska, PBS, Poland. Trifolium ambiguum - time to start growing this plant in Europe
14.00 Åshild Ergon, NMBU, Norway. Red clover for mixed cropping in a Northern climate
14.30 Break
15.00 Josef Hakl, CZU, Czech Republic. Forage research at CZU with focus on root morphology and forage nutritive value
15.30 Jørgen Eriksen, AU, Denmark. The nitrogen fertilizer challenge in grass-clover leys
---
Contact
David Parsons, Professor
Department of Crop Production Ecology, Crop production science
david.parsons@slu.se, 090-786 87 14