Forage Crops
Ley is the most commonly cultivated crop in Sweden. Ley and other forage crops are used mainly in milk- and meat production systems. Important research questions are how to improve crop production systems, conservation techniques, feeding strategies and evaluation of forages for milk and meat production. The forage crops theme group works with research and development and dissemination of information within the subject area.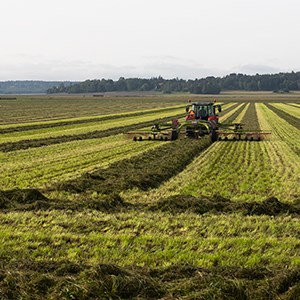 Seminar:
Forages, with a northern focus
Thursday September 28 the Department of Crop Production Ecology is holding a seminar in Umeå and online, about forages. The seminar is given in conjunction to Brooke Micke's PhD defence (which is the next day after the seminar). The speakers are from the evaluation committee.
We will talk aboout forage research at SLU and at the Czech University of Life Sciences Prague (CZU). We will also talk about possibilities to grow Trifolium ambiguum in Europe, red clover for mixed cropping in a Northern climate and the nitrogen fertilizer challenge in grass-clover leys.
If you want to participate in the forage crops theme group meetings, you are most welcome to contact the chairperson and/or the secretary:
Would you like to get emails about what we do and invitations to our meetings? Sign up for our email list here!
Loading…