HORSEGENE
Last changed: 11 June 2014
Project title: GENOMIC TOOLS FOR BREEDING AGAINST HERITABLE DISEASES IN HORSES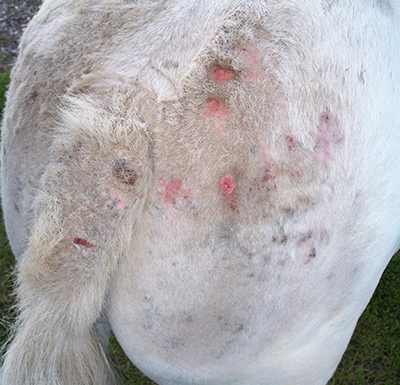 This project is part of a large collaborative EC-funded project called HORSEGENE. The project will use reliable state-of-the-art genomic technologies for the rapid identification of gene markers for heritable diseases in horses, which will facilitate effective genomic selection against disease susceptibility.
The disease of particular focus for this project is insect bite hypersensitivity (IBH). The occurrence of the disease is a significant problem for horse owners and breeders and leads to poor animal welfare and severe economic losses.
A genetic component to disease susceptibility has been confirmed and several research groups in Europe have independently carried out small to medium-sized studies in order to find the causative genetic mechanisms underlying the disorder. However, the mode of inheritance for the disease appears to be complex, and no genes or mutations have been identified yet, suggesting that analysis of much larger sample sizes is required.
This project aims to bring together the efforts of European research groups that are currently working on the genetics of disease susceptibility in horses. This collaboration will enable the groups to pool data leading to more rapid progress in the identification of the genes and suitable gene markers for use in genomic selection against disease susceptibility.
More information about the international project can be found at: http://www.horsegene.eu.
---
Contact
---
Links